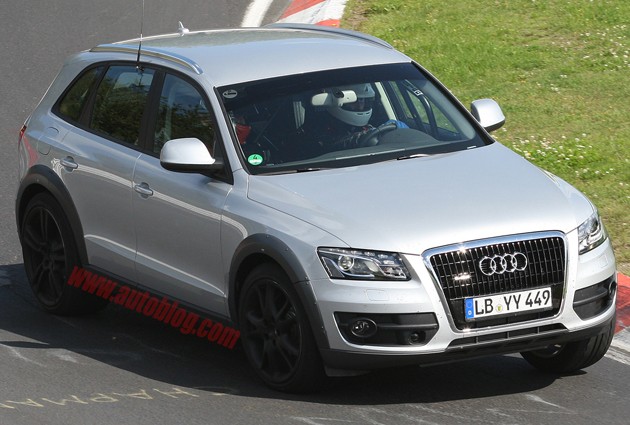 IndianAutosBlog.com is fresh off the BMW X3 press conference in Pune, where BMW launched its brand new compact luxury SUV at a whopping price of 41.2 lakhs. The BMW X3 already has enough contenders such Audi's Q5, Landrover Freelander 2, Volvo XC60.
But a new challenger is taking birth on the hills of Nürburgring – It's the Porsche Cajun. This baby Cayenne will mark the Porsche brand's first entry in the compact luxury SUV segment.
According to the images reported by Autoblog.com, Porsche has already started testing the Cajun platform on the Ring. Right now, it is using the Audi Q5 body as a test mule. More proof comes in the form of number plates which are marked LB (Ludwigsburg). If it was actually an Audi, it would have been IN (Ingoldstadt).
The Porsche Cajun will be shorter, lower, and wider than the Audi's Q5. Considering VW has assigned Audi with developing all the SUV platforms, the Porsche Cajun will be based on the Q5 platform but will have front-wheel drive architecture.
Having said that, Porsche may also customize the 'Quattro' system and introduce the Cajun in an all-wheeled drive form. Porsche is planning to introduce its own braking and suspension system on the Cajun. A lot of design cues will be borrowed from the Panamera and 911 both on the inside and on the outside.
There are a myriad of engine options that may be available on the Cajun such as
A supercharged 3.0-liter V-6 generating around 300 hp
2.0-liter TFSI which will be good for 220 hp
3.0-liter V-6 making 350 hp
A hybrid power train consisting of 2.0 TFSI producing 208-hp and a 44-hp electric motor.
Audi's 3.0-liter V-6 TDI in 2 versions - 250 hp and 310 hp.
2.0-liter TDI with 200 hp is also possible.
All the engines will be either be mated to six-speed manual or a seven-speed dual-clutch transmission; the hybrid will get an eight-speed automatic. There are also plans to launch a sportier 3 door version.
The reason why we are so much interested in this SUV is because its big brother Porsche Cayenne is the best selling Porsche in India. There is absolutely no reason why the Cajun will not be appreciated over here. We are ready to bet on the fact that the Cajun will see the lights of Indian cities.
The Cajun is expected to be launched in late 2013 and early 2014. Until then, we will get you all the dope on its testing phase.
[Source - AutoBlog.com]