Sports a retro-style exterior.
What could be the first image of the rumoured Porsche 911 R has surfaced online, a limited edition based on the 911 that is believed to be launching next year. Reports are suggesting that the model, though yet to be revealed, is already sold out and that a customer has confirmed that what's in the photograph is the actual product, not a speculative rendering.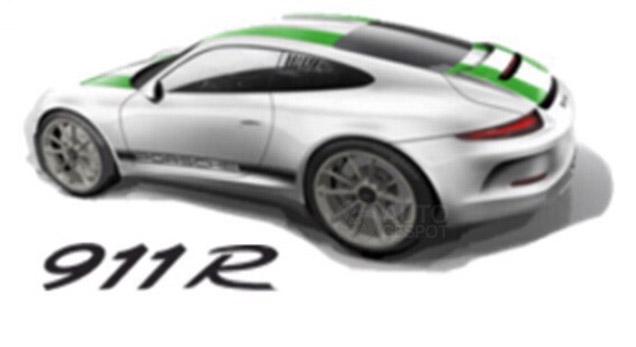 The Porsche 911 R appears to be a retro-styled model that could be released around the time the original model celebrates its 50th anniversary next year. Power could come from the 911 GT3's 3.8-litre six-cylinder naturally aspirated engine, capable of dishing out 475 PS (349 kW) of maximum power and 438 Nm (324 lb-ft) of peak torque.
The transmission system is not expected to be carried over from the GT3, which is a seven-speed dual-clutch automatic transmission. Instead the 911 R could be receiving a six-speed manual gearbox. Further, the R version of the Porsche 911 is expected to be lighter than the GT3 (1,430 kg). 600 units of the limited edition 911 is believed to be planned for production.
2014 Porsche 911 GT3 - Image Gallery (unrelated)
[Source: Autogespot.nl]