Third generation Porsche Cayman adopts the 718 series branding with a mid-life facelift.
The 2016 Geneva Motor Show saw the world premiere of the Porsche 718 Boxster, and today at Auto China 2016 (2016 Beijing Motor Show), its coupe version, the Porsche 718 Cayman, has been unveiled. The Cayman, or 718 Cayman as it will be known now, has received ample revisions for its mid-life facelift.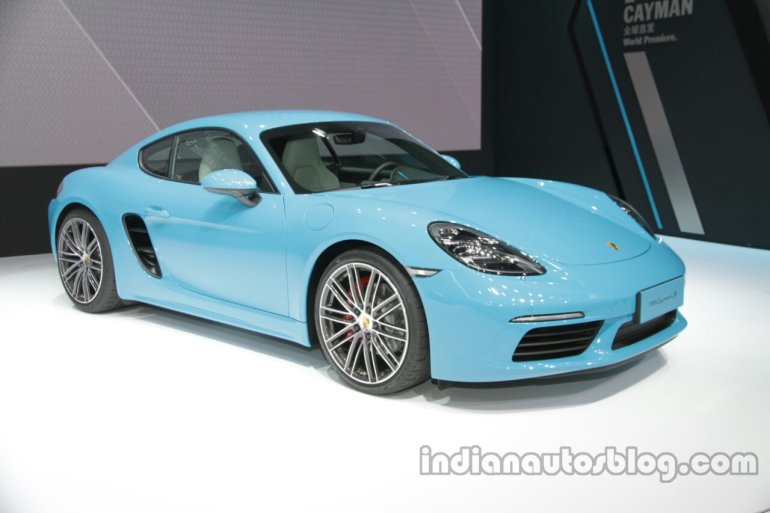 Exterior highlights include significantly larger cooling air intakes, new positioning lights and indicators above the air intakes and Bi-Xenon headlights with integrated LED daytime running lights/LED headlights with four-point daytime running lights at the front, and high-gloss black accent strip with integrated Porsche logotype with redesigned taillights featuring 3D-look and four-point brake lights at the rear.
Interior highlights of the Porsche 718 Cayman include a redesigned dashboard, new air vents, new sport steering wheel similar to the one found in the Porsche 918, 8-speaker Sound Package Plus audio system, and Porsche Communication Management (PCM) system with available Connect modular which includes USB port, Apple CarPlay and Porsche Car Connect, navigation module with voice control and Connect Plus module with traffic information Apple CarPlay, Google Earth Google Street View and Wi-Fi connectivity.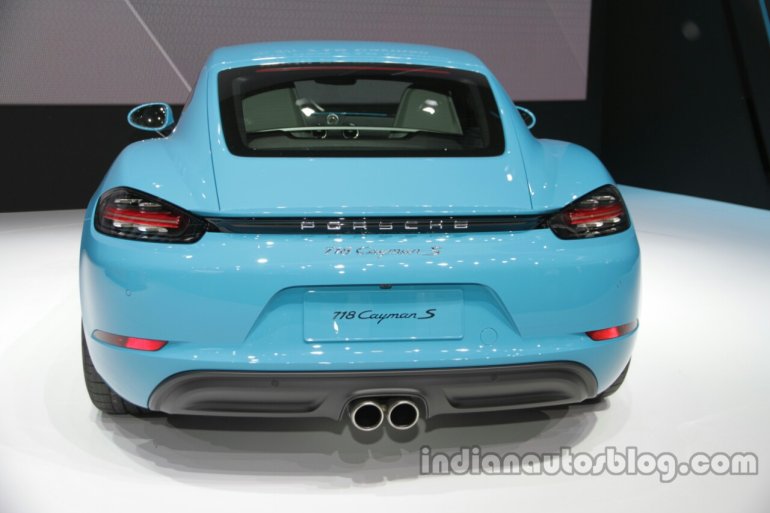 With the facelift, Porsche has done several chassis enhancements for greater cornering precision and more lateral grip. The springs and sway bars are firmer, and the shock absorbers have been retuned. The steering rack has a 10% quicker on-centre ratio compared to the previous model. The rear wheels are one-half inch wider and the tyres are also new. The uprated brake systems with 330 mm brake rotors at the front and 299 mm brake rotors at the rear are now standard. The 718 Cayman is now equipped with the brakes from the old Cayman S, while the 718 Cayman S features the four-piston calipers of the 911 Carrera combined with 6 mm thicker front brake rotors.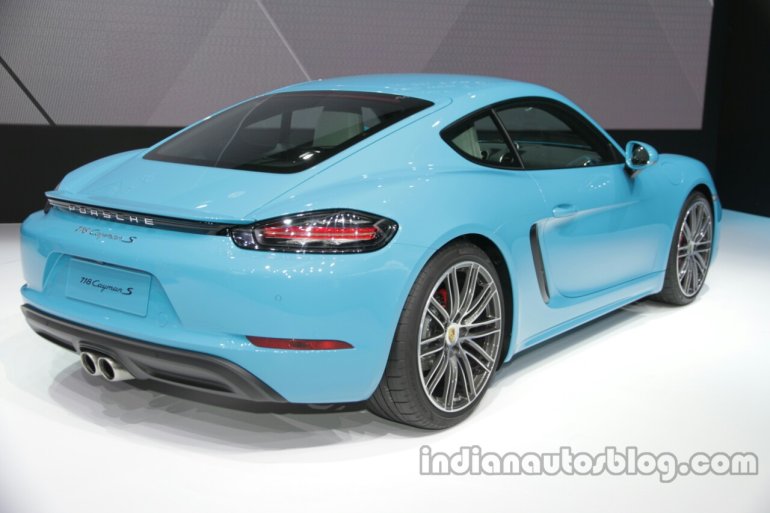 The base Porsche 718 Cayman is powered by a 2.0-litre engine that produces 300 hp and 280 lb.-ft. (380 Nm) of torque. The Porsche 718 Cayman S is powered by a 2.5 litre turbocharged flat-four cylinder engine that develops 350 hp and 309 lb.-ft. (419 Nm) of torque. Coming to performance figures, the 718 Cayman with PDK gearbox and optional Sport Chrono Package can sprint from 0-60 mph (0-97 km/h) in 4.5 seconds. The 718 Cayman S can reach from 0-60 mph (0-97 km/h) in 4 seconds flat. The top track speed of the 718 Cayman is 170 mph (274 km/h), while the same of the more powerful 718 S is 177 mph (285 km/h).