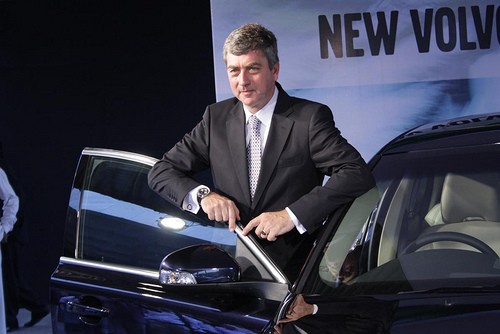 Paul di Voijs poses with the new Volvo S80 diesel in Mumbai's World Trade Center
"No I want to talk to you, No I want to talk to you" insists Paul when I ask him to gather some lunch in a plate as we sit down for a chat. He smiles like a child, but I know he's a very hungry man. He hasn't taken lunch, and when we start chatting its already 4:15 PM.
As I make myself comfortable, I remind myself I'm dealing with a man who is in his 25th year with Volvo brand. Paul de Voijs, Managing Director of Volvo India is working in his sixth destination and has seen a good part of America on a Harley Davidson which he rented with no previous riding experience. He is an adventure-seeking man who arrived in India knowing there was no office, table or chair for him. Paul reads the look in my eye as I start talking.
I start by telling Paul I'm not going to ask him questions on production volumes, projected sales or engine capacity. Instead I would ask him about the future, a place where I want to be in today to see Volvo in India. Right now Volvo sells just two models - the S80 sedan and the XC90 SUV. I hence don't consider Mercedes Benz, BMW or Audi to be its competitors in any of my questions.
Paul says India is not like China when I quiz him about the Volvo S80L (Long wheelbase). I thought Volvo could introduce the long wheelbase model here as it qualifies as a S80 variant, a model which they want to sell in the country. Moreover I've of late witnessed a lot of 5 Series and E-Class owners enjoying their drive in the backseat of the car.
Paul disagrees. Factors like thick traffic and poorly laid roads filled with speed breakers won't be suitable for long wheelbase cars, he says. As I start my next question, he interrupts and adds three long wheelbase S80s are being made at their plant in Sweden for Indian customers who requested them specifically. He also educates me that in RHD markets, more people prefer to drive themselves which is why they have not made a RHD Volvo S80L in the first place.
The Volvo S80 uses the Ford EUCD (European C/D-class) platform. This is the same platform that is used on the Ford Mondeo. Although we have never heard from Ford India about their new Mondeo, I felt it would make good sense for the company to consider assembling it in Chennai. If they ever do, would Paul work out something with Ford India and have the S80 assembled locally?
"Are we going to produce cars in India?" asks Paul with his eyebrows raised. If we produce cars in India we won't do it in Chennai. Producing cars as CKDs are costlier than bringing them down as CBUs as they need volumes. He says he'll rather will wait for the duties to come down. Producing a car in Sweden is easier. Quality control is not a worry. If a plant is setup here, there needs to be constant monitoring and drill for the first one year to align the procedure/methodology close to Sweden's. He adds the Indian government could benefit as more cars will be registered and more road taxes will be paid. Making the cars accessible to more people could also lead to increase in job opportunities. Paul asks if some of the other brands which sell cars that were previously CBUs and now assembled in India have brought down the price over the years. "Are they cheaper? Who is benefiting? Is it the manufacturer or the customer" asks Paul.
Why are brands not bringing in their station wagons? A BMW 5 Series station wagon or a C-Class estate can't be bought in India, though the sedans can be. Paul interrupts before I finish. He's concerned that his answer would represent all foreign brands in India and he begins his answer with "V40" (station wagon version of the smaller S40 sedan) is a product which we will bring to India if there's a demand. He feels the market is not ready for that product. Paul says in India station wagons don't have the same status as in Europe. They look like delivery vans to Indian customers. In Europe, by driving a station wagon you tell the world, you go shopping, camping, play hockey and still drive what is similar or relevant to the others. In India it isn't fashionable.
Volvo has just revealed the 2.0 GTDi (Turbocharged Gasoline Direct Injection) in Europe and that could be on the choice list of Volvo S80 buyers. Would Volvo India bring it down here?
No, it is not on our focus right now, says Paul. We feel diesel is the clean fuel considering our cars come fitted with particulate filters and are Euro V compliant. 80% of Volvos sold in India are diesel models he adds.
What about the S40 sedan Paul? Can't it take on the 3-Series and C-Class in the future? What about the P20 small car which Volvo is secretly
Paul says - Shrawan, our plans are to bring the XC60 into India this year. Then we bring the S60 and after that the S40. As I told you before, small cars are more expensive to produce. The "B20" isn't going to come to India either.
Manufacturers are making a lot of noise about electric vehicles and Volvo has also shown a few concept in recent motor shows. Will a Volvo S80 EV be reality in India?
"When there is a demand, we will bring it. Actually, we have about 50 vehicles in evaluation. Volvo doesn't want to say one thing and do another. When we offered the particulate filter on the European model which costs a few hundred Euros due to usage of platinum, I made it a point to bring it to India."
As I shake hands with Paul and prepare to leave, he congratulates me and thanks me for taking the trip. I suggested to Paul to start cafes or Volvo exhibitions where people can come with friends and family, have fun and learn about Volvo's obsession with safety. Volvo's marketing strategy is targeting movie goers and sports enthusiasts. If it is the general public they want to focus on, better first give them something and then expect their services.