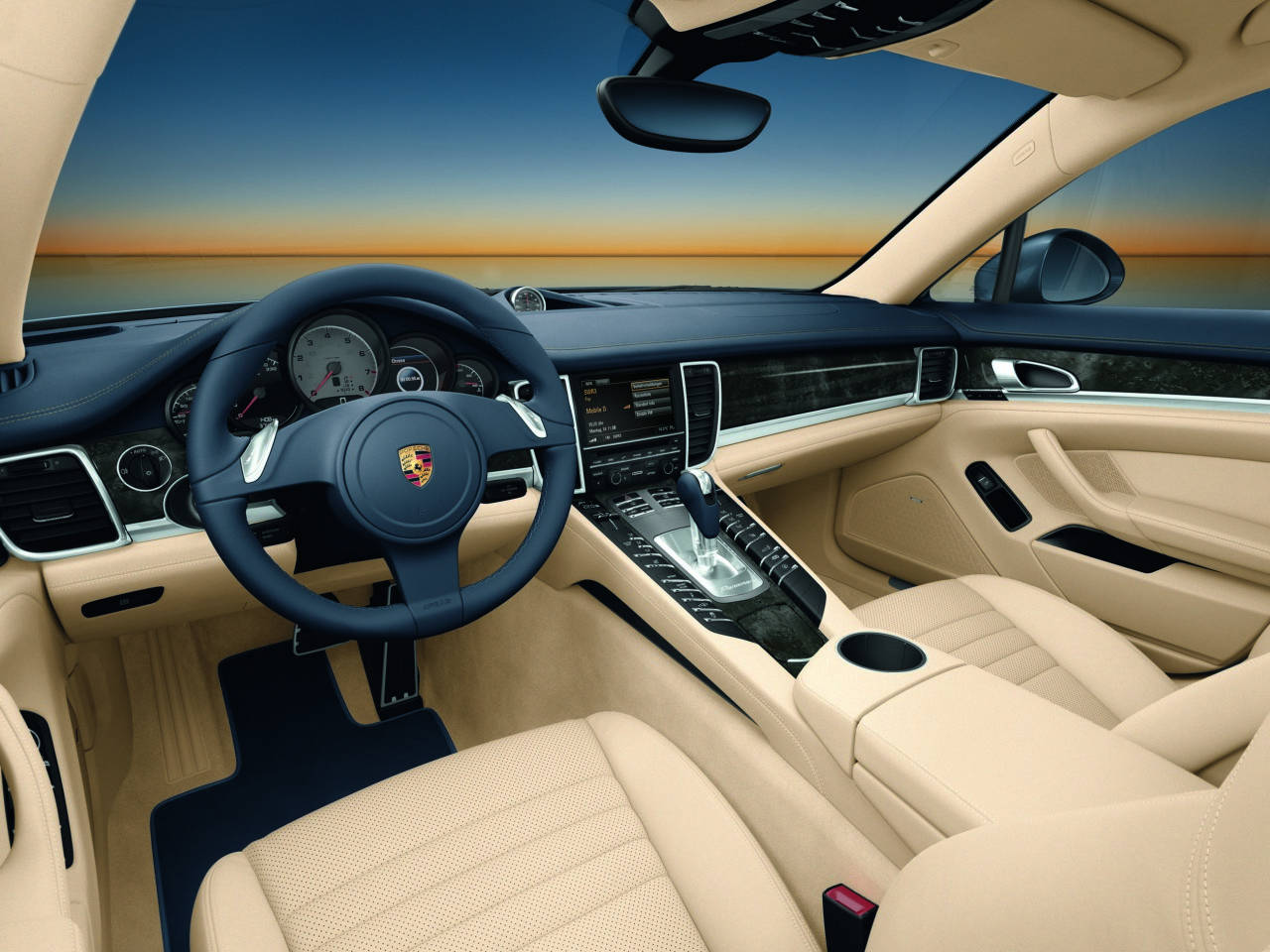 NOTE- If you are a regular at Indian Autos Blog, then you would have seen the interior of the Porsche Panamera. Well, sort of, as it has been featured here not once, but twice.
Porsche has released a few images of Panamera's interior. Complementing the exterior, the inside looks very elegant, sophisticated and functional. The center console features an array of infinite buttons that resembles a Blackberry !
The steering wheel has thumb shifters to select the ratio of the seven-speed PDK dual clutch gearbox. Backseats seem to look as comfy as the front counterparts. This we think, is the only Porsche that will be able to seat 'Human Beings' in the rear (leave alone the Cayenne for the moment).
'Cockpit for Four' concept
Deep-seating arrangement for better road feel
Continuous central console that extends from dashboard to the rear seating area
13 colour and metal combinations; Trim options including Carbon Fibre and Natural Olive wood.
Four-zone climate control system for customised individual seating area cooling
Eight-way power seats with memory packages(for one-touch personal seat adjustment)
Grand accoustic experience from Burmester® — a Berlin audio manufacturer - 16 loudspeakers plus a subwoofer (2.5 square feet of speaker surface area) with a total output of 1000W+
The Panamera goes on sale in Germany on September 12, with a 4.8-Litre S model starting at €102,251 including VAT (around $130k USD). India will get the Porsche Panamera in September 2009 and will be priced above Rs.86Lakh and upward.
At launch, only naturally aspirated and turbocharged V8s will be available. Possibly in 2010-11, a V6 hybrid will be on the cards, and not to forget, a diesel as well!
Note: Scroll down for more High-Resolution images (after press release)
-------------------------------------------------------------------------------
Press Release
PORSCHE REVEALS FIRST PANAMERA INTERIOR IMAGES
Photos Highlight the All-New Gran Turismo's 'Cockpit for Four' Concept
February 12, 2009 —- Today, Porsche AG for the first time presents its Panamera four-door gran turismo interior concept. The much-anticipated addition to Porsche's performance lineup will make its U.S. market debut on Oct. 17, 2009.
With a continuous center console that extends from the dashboard to the rear seating area, the Panamera offers a new spatial concept for the driver and passengers featuring optimal ergonomic seating with individual cockpit-like spaces for all. Its deep seating position and a sport steering wheel help give the driver and passengers direct contact with the road. At the same time it provides a generous, roomy environment with exceptional leg and head room, unique qualities in a sporting machine yet essential for grand touring. This individual seating allows for optimum passive safety.
Porsche will provide countless opportunities for individual interior customization with 13 color and material combinations including four two-tone leather interiors and seven interior trim options including carbon fiber to Natural Olive wood.
An available four-zone climate control system gives each seating area individual control of functions such as temperature, air distribution and venting direction. In the unfortunate event of an accident, front, side and curtain airbags help protect the front occupants, while standard rear side airbags help protect those in back. The Panamera S and Panamera 4S feature eight-way power seats in front with a driver memory package. In the rear are two individual seats with a folding rear console and plenty of room. The Panamera Turbo has power seats with a memory package for not only the seat functions but also the electronically adjustable steering wheel. Further seating customization is available through optional alternatives such as 18-way Adaptive Sport Seats or fully adjustable eight-way power seats in the rear.
Porsche for the first time will offer from Burmester® — the renown Berlin audio manufacturer — a new ultra high-end surround sound system. With 16 loudspeakers plus a subwoofer (a total of over 2.5 square feet of speaker surface area) and a total output of more than 1000 watts, this new system gives listeners a grand acoustical experience. And like the 2009 Porsche sports cars and SUVs, Panameras will be available with the latest personal electronic connectivity features, including Bluetooth for cellular telephones, Universal Audio Interface for connecting personal audio devices, and satellite radio.
The rear luggage area provides up to 15.7 cubic feet of space, enough room for four large suitcases. The tall space enables luggage to be loaded in an upright position, and with the rear seat folded down the luggage space generously increases up to 44.6 cubic feet.
Initially, all Panameras will be available with two V8 engine options, standard seven-speed Porsche Doppelkupplungsgetriebe (PDK) double-clutch transmissions and rear- or all-wheel drive. All engines feature Porsche Direct Fuel Injection (DFI) for highest efficiency. For additional fuel savings, all Panameras include an engine stop-start function that can turn off and restart the engine at certain times, like when stopped at an intersection or in traffic.
The rear-wheel drive Panamera S has a 400-horsepower, 4.8-liter V8 engine that can propel the it from 0 to 60 mph in 5.2 seconds on its way to a top test track speed of 175 mph. The manufacturer suggested retail price (MSRP) is $89,800. The all-wheel drive Panamera 4S receives the same 4.8-liter powerplant. It sprints from 0 to 60 mph in 4.8 seconds, achieves a top test track speed of 175 mph, and has an MSRP of $93,800.
At the top of the Panamera lineup is the Panamera Turbo with its 500-horsepower, twin-turbocharged 4.8-liter V8. Also featuring the new PDK transmission, the all-wheel drive Panamera Turbo sets a breathtaking 0-to-60 time of 4 seconds flat and a top test-track speed of 188 mph. The Panamera Turbo has an MSRP of $132,600, and all three Panamera models will go on sale in the United States this October.
Porsche Cars North America, Inc. (PCNA), based in Atlanta, Ga., is the exclusive importer of Porsche sports cars and sport utility vehicles for the United States. It is a wholly owned, indirect subsidiary of Dr. Ing. h.c. F. Porsche AG. PCNA employs approximately 180 people who provide Porsche vehicles, parts, service, marketing and training for its 201 dealers. The dealers, in turn, provide Porsche owners with best-in-class service. Throughout its 60-year history, Porsche has developed numerous technologies that have advanced vehicle performance, improved safety and spurred environmental innovations within the automotive industry. The company continues to celebrate its heritage by adding to its long list of motorsports victories dating back to its first 24 Hours of Le Mans class win in 1951. Today, with more than 28,000 victories, Porsche is recognized as the world's most successful marque in sports car racing. PCNA, which imports the iconic 911 series, the Boxster and Cayman sports cars and Cayenne sport utility vehicles and soon the Panamera gran turismo for the United States, strives to maintain a standard of excellence, commitment and distinction synonymous with its brand.
Porsche Panamera High-Resolution Image Gallery