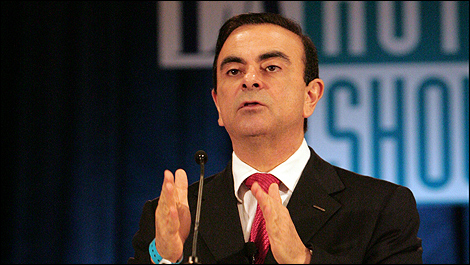 Nissan's zero-emission electric vehicle by 2012 for the general public
Although Nissan may be lagging behind its cross-country rivals in hybrid technology, the Japanese automaker is moving full steam ahead with with its electric vehicle plans. Nissan is just as ready to do battle on this front as well (after the famous GT-R & Porsche Nurburgring row)
Mark Perry, Director of environmental product planning for Nissan, claims Nissan is not only developing electric vehicle technology so advanced like never seen before, but have even got a head start over many of their competitors (Guess he's talking about Toyota, Honda and GM, who have made heavy investments in this field recently).
Nissan's ongoing research on lithium-ion batteries since 1992
Nissan says it has almost found the solution to it's problem. I mean, they have been working on lithium-ion batteries for 16 long years. No wonder they say they have the best technology with them. The automaker believes to be so near the answer that it has already signed an agreement with NEC for the larger scale manufacturing of the batteries.
"The difference is that we have made different choices. Several automakers chose to experiment with hybrid vehicles, but everyone knows this technology is only transitional. We have concentrated on what we believe to be the real solution in the future, electric cars. And from this point of view, our technology is already well established," he said.
Nissan Electric Vehicle Specifications- 160 Kilometer Operating Range with a 26-minute recharge
"The vehicles have an operating range of 160 kilometres, recharge to 80 % capacity in less than 26 minutes and cost less than 70 cents per full charge. This is a viable solution that we could establish if the recharging installations were available. We still have a lot of research ahead of us, but we are the leaders in this field," said Perry.
Nissan Electric Vehicle vs Tata Nano
It cost hardly 70 cents (about 35 rupees) to fill up. Let's compare this to the Tata Nano, as Ghosn mentions that this car will be an affordable vehicle-
The Tata Nano according to ARAI reports, will return 24 kmpl (city and highway combined)
If you had to travel 160 kms, you would have to fill the Nano's tank with 6.6-liters of petrol. One liter of petrol should cost 60 rupees a liter (just an assumption), you need to spend roughly 400 Rupees.
Nissan's electric car will travel the same distance as the Tata Nano in less than 1/10th the cost
An electric vehicle is easier to manufacture and costs lesser than a normal car as it consists of lesser components. This should most probably be a 4-seater, hatchback, similar to the Tata Nano in dimension and would cost more or less the same as the mid-variant of the Tata Nano.
OK, an electric car needs to have it's battery pack replaced after a certain point of time, but going by what Ghosn's statements, Nissan's battery pack should be more advanced than the current units in the market, and would last much longer than the regular Nickel Metal Hallide units. Combine that with Zero Emissions (by 2012, the Indian Government should have reduced the taxes on Electric cars even further) and absence of any noise pollution, this car would be the ultimate city cruiser in my view.
"If all the developing countries counted on individual cars as much as North Americans, we would need 11 extra planets to provide the necessary resources. Some things absolutely must change, and that's what we're doing," concluded Perry.
IAB Comment- If the cost of Lithium Ion units are brought down, it will undoubtedly replace the Internal Combustion Engine. The beginning of the transition would see hybrid cars, from small to big. Mercedes's declaration of doing away with petrolium-powered cars by 2015, makes sense to me now.
Nissan is treating India as one of their top priorities. They plan to bring in the Nissan March (based on the A-Star) by April next year and would follow it up with a range of cars including the 370Z supercar. With all that happening, I don't see why this electric car would not be manufactured in India. It would be the perfect competitor to the Tata Nano and the Bajaj ULC, who by then, would also have their electric forms out on the market.
Folks, the auto industry is heading for a shocking revolution- Electric Vehicles are the future.