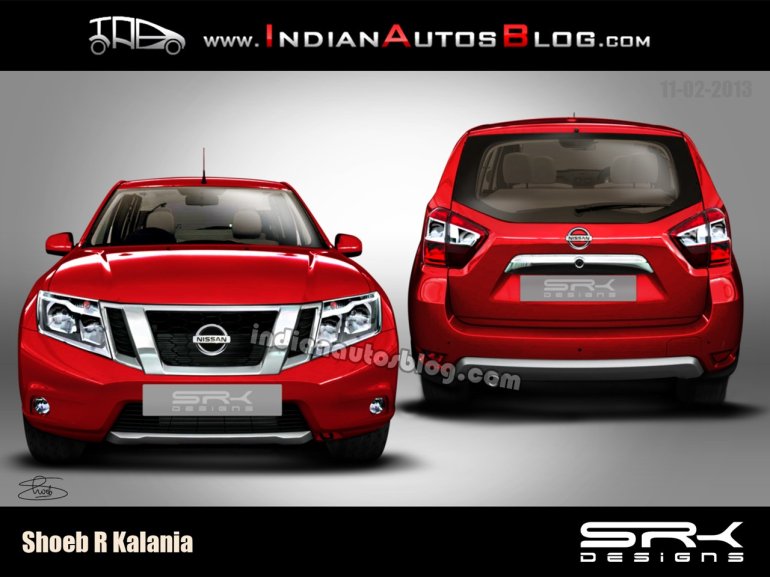 Last week we ran images revealing what could be Nissan's version of the Duster from a Facebook community. Nissan India confirmed the launch of a mini SUV for the next financial year, describing the time around Diwali as a "good season" in a press conference recently.
Based on the two leaked pictures, we got our image specialist Shoeb to prepare a complete sketch of the car's front and rear views complete with badges and the right driver position.
So what are the possibilities Nissan India can explore with the Duster remake?
Nissan can ditch the 1.6-liter Renault petrol engine and instead take the more efficient 1.5L HRD15E designed for the Sunny. This engine is fully localized in India and could give significant cost advantages. There won't be a lot of takers for the petrol car, but it can serve as a bait (read low starting price) and create to a lot of buzz around the time of launch.
Like other Indian remakes in the Renault-Nissan alliance (Pulse and Scala) the Nissan Duster may not be exported out of India.
As delays are anticipated for the availability of the diesel EcoSport, the Renault-Nissan alliance can launch two assaults on the untapped Indian SUV market before Ford is able to find its balance.
Since the Renault/Dacia Duster is localized heavily, pricing the Nissan Duster lower would not be complex.
New technologies such as 4WD and AT are being rumored for the Indian market Duster in the coming months, which could be launched without long delays on the Nissan Duster, giving customers a full range of vehicles to pick from.
The Nissan Duster looks like a Patrol from the front and strongly resembles the Chevrolet Orlando from the back. We're game for any kind of makeover other than a lazily rebadged Renault Duster, we're sure every Indian SUV enthusiast is with us on this!