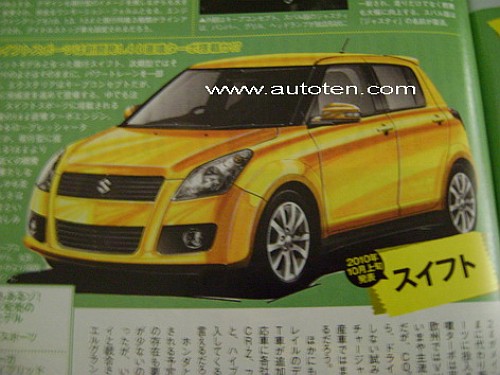 The next gen Suzuki Swift will come with 1.2, 1.5 and 1.6-liter petrol engines
Autoten is reporting that the Next Generation Suzuki Swift will debut at 2010 Paris motor show. By October it will occupy showroom floors of Japan and by January 2011, it will debut in international markets.
The next generation Swift will be available with a wide variety of powertrains including a 1.2L petrol engine (codename K12B) with CVT transmission along with 1.3-liter (petrol/diesel not mentioned) and a all-new KB-series 1.5-liter petrol engine and new 1.6-liter four-cylinder petrol engine
Autohome.com.cn is reporting that the sedan version of Next Generetion Suzuki Swift (Swift Dzire) will come earlier than expected. The website is reporting the new model will debut before the end of 2010. It will be a global B-Sedan measuring 4.2 metres in length.
Where do these guys get all this information?
Source - Autoten