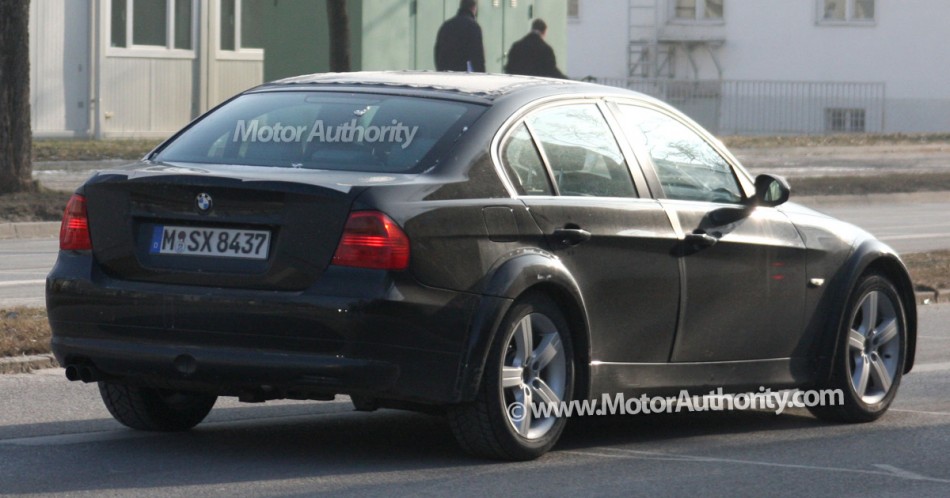 We've seen renderings and spy shots of the 2010 BMW 5 Series which will borrow design aspects from from the CS Concept and the recently launched BMW 7 Series.
After making it's global debut in 2005 and subsequently finding it's way to India, the BMW 3 Series is getting ready for an overhaul. The test mule photographed here is the 2010 or possibly a 2012 model. Similar to the next-gen 5 Series, design elements will be lifted from the CS Concept.
Just like it's bigger brother, the 3's wheelbase and track will also grow. IAB speculates that it's weight will be hovering around the current car's with extensive usage of aluminum for body panels and smaller engines under the hood to help it get there.
The 2012 BMW 3 Series will have a more pronounced grille (meaning bigger ones like the 7 Series has?), a higher belt line, air vents below the headlights with the bonnet line placed higher than the current 3, for meeting pedestrian safety standards (the next 5 will also follow the line)
Notice the roof of the vehicle. One can see padding over the area above the rear seats. Can the camouflage be covering what could be a sun roof exclusively for the rear passengers?
Reports also claim the possibility of include hybrid variants as well as the latest edition of BMW's Efficient Dynamics. The xDrive AWD system will help in improving gas mileage by 0.5L per 100km standard RWD models. Bells and whistles may include night-vision devices, a heads-up display and radar safety systems.
IAB Comment- So BMW's 5 and 7 will get lighter and smaller engines with slightly different styling. The addition of the hybrid option is much welcomed. But it's early days to predict whether an Indian appearance is possible or not.