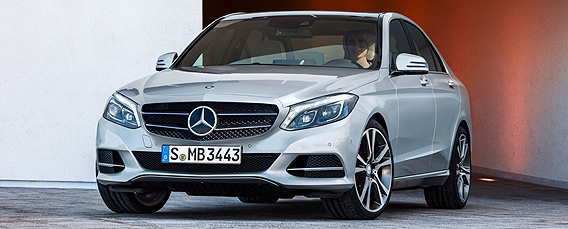 We've updating you on the next generation Mercedes Benz C Class that is due sometime during the later part of this year, or early next year. We even showed you a video of a development car being tested in Sweden.
This is the rendering of the 2015 Mercedes C Class by German magazine Auto Bild. When these guys usually render something, you can take it for granted that what you see there is very close to the real deal.
At first glance, the new C Class looks more like the all new E Class thanks to the new grille and head lamp design. Mercedes clearly wants the C Class to be perceived as a more upmarket car, hence the detailing.
Another interesting detail is that the new C will be based on the MRA platform (Mercedes rear wheel architecture) and hence it would be a rear wheel drive car. The BMW 3 Series should be very worried, as the new C is expected to be lighter by around 30kg.
After introducing the A Class and the CLA Class, Merc has been criticized for their lack of rear sear space. Hence, the new C will be significantly larger at the rear than the outgoing model.
The new C will not only come as a four door sedan, but also as a cabrio, an estate and a coupé, apart from the AMG variant.
Auto Bild expects the diesel range to start from a 170bhp C220 variant and extend to a 231bhp C300 variant, all using the 2.2-liter engine. The petrol range is expected to start from a 1.6-liter 156bhp C180 variant and extend all the way to a 3.0-liter V6 333bhp C400 variant. These will be followed by the AMG that would have a 4.0-liter V8 churning 462bhp, and a hybrid model producing 258bhp.
[Source - Auto Bild via Automobil Produktion]