Offers five colour choices.
The product brochure of the all-new Suzuki Satria F150 (150 cc moped) has been leaked online before its debut in Indonesia. The brochure reveals the model's features and specifications in detail. The model is expected to launch in Indonesia early next year.
The new Satria F150 is upgraded with a fuel-injected engine as the current model uses a carburettor. The 147.3 cc single-cylinder liquid-cooled engine with DOHC and four-valves, is unchanged. It continues to have a bore diameter of 62.0 mm and a stroke length of 48.8 mm, but the addition of an ECM (Engine Control Module) and a fuel injection system make it more finely tunable.
The air-cooled engine on the new Satria has achieved a higher compression ratio of 11.5:1 compared to the carbureted version's 10.2:1. The new Satria has an output of 18.3 PS at 10,000 rpm and 13.8 Nm at 5,000 rpm, which is a bump up from the current version's 15.6 PS at 9,500 rpm and 12.5 Nm at 8,000 rpm.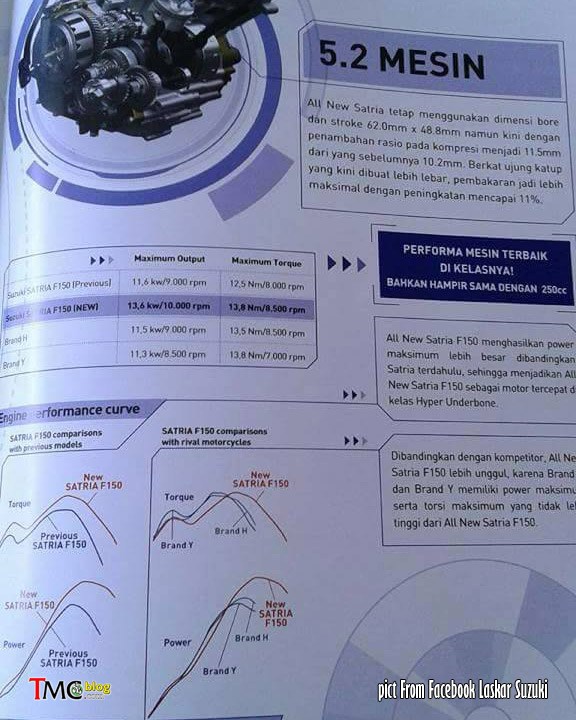 Also Read: Suzuki Gixxer, Suzuki Gixxer SF testing with rear disc brake – Spied
The new model benefits from lightweight components, improved acceleration, higher fuel efficiency (by 6 percent), an LED headlamp and an assortment of six sensors including an O2 sensor (Lambda sensor), a temperature sensor and a water pressure for the radiator, a Throttle Position Sensor (TPS), an intake air pressure sensor and a crankshaft position sensor, reportedly.
[Source: TMCBlog]