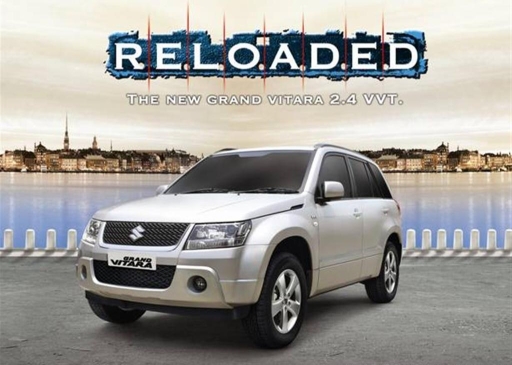 Maruti Suzuki has launched the new 2.4L Grand Vitara more powerful sporting a 2.4L, 163.5 Bhp engine as against the current 2.0L, 120 bhp one.
A 2.4 litre VVT (Variable Valve Timing) engine delivering 163.5bhp @ 6000rpm and 225NM @ 4000rpm, claims Maruti, will deliver satisfactory power and efficiency.
The 2.4-liter Grand Vitara receives a few cosmetic upgrades with interior changes. Only time will tell whether Grand Vitara can hold a candle in front of the segment leader Honda CRV or for that matter the Chevy Captiva.
Features of the new Suzuki Grand Vitara
New Multi Information Display (MID).
A new front grille and front bumper along with the 17 inch alloy wheels
Rear disc brakes
click through for press release
Press Release
Press Release

New Delhi, July 3, 2009: Maruti Suzuki India Limited, the country's largest passenger car manufacturer, today introduced a brand new version of its popular high end SUV - Grand Vitara.

The new Grand Vitara 2.4 comes reloaded with a 2.4 litre VVT (Variable Valve Timing) engine that delivers a maximum power of 163.5 bhp @ 6000 rpm and a torque of 225 NM @ 4000 rpm. The VVT engine on the new Grand Vitara 2.4 delivers a balanced mix of power and efficiency.

The Suzuki Grand Vitara SUV range has always been loved by the customers for its style and handling as well as its off-road capabilities. The new Grand Vitara 2.4 answers the customer's need for more power.

An All-time, 4-mode, 4-Wheel Drive (4WD) continues to ensure effective control across terrains. Disc brakes in the rear wheels, that ensure superior braking, provide additional safety dimension to the Grand Vitara 2.4.
The new Grand Vitara 2.4 is packed with many new features that add style and a bold look. The interior display in the car has been enhanced with a new Multi Information Display (MID) providing easy to read and accurate vehicle information like Cruising range, Average speed and instantaneous fuel consumption, besides "low-fuel" warning. All these add up to enhanced user convenience and driving comfort.

The stylish new front grille and front bumper gives the Grand Vitara a sleeker look while the 17 inch alloy wheels add dynamism.

A centre speaker coupled with a 6-CD changer brings in a surround-sound effect. Improved acoustics and a redesigned power train helps in lower noise, vibration, and harshness (NVH) levels. A sliding centre-console armrest adds to passenger comfort.

Speaking on the occasion, Mr. Mayank Pareek, Executive Officer (M&S) Maruti Suzuki India Limited said, "The new version of Grand Vitara takes the three decades of Suzuki SUV heritage to the next level. Highly popular the world over, the Grand Vitara is one of the global strategic models in Suzuki Range. For all those customers, who are increasingly looking at SUVs, the Grand Vitara 2.4 offers more power and the best in class 4X4 drive at a highly competitive price."

The Grand Vitara brand of Suzuki has sold over 2.5 million units worldwide winning over 32 reputed awards across 16 countries. Leading accolades for Grand Vitara include 6 awards in USA, 4 in Germany, 5 in Russia and 3 in Australia.

The new Grand Vitara 2.4 comes in two variants: 5-speed Manual Transmission (5 front + 1 reverse) and 4-speed Automatic Transmission (4 front + 1 reverse).

The Grand Vitara 2.4 is available across the country immediately. The Grand Vitara 2.4 is competitively priced as under:
(Ex-Showroom, Delhi)
Manual transmission - Grand Vitara 2.4 Rs.16.67 lakh
Automatic transmission - Rs.17.97 lakh