With the launch of the Mahindra Centuro, the two wheeler wing of the conglomerate has announced a product onslaught.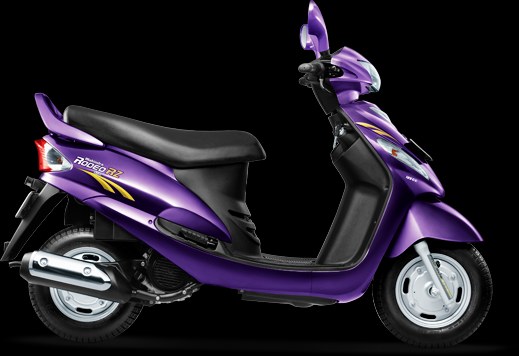 Mahindra2Wheelers will be launching 10 new products or refreshes in the next 18-24 months. The product plant will include both motorcycles and scooters.
A new Mahindra scooter is in the works and we presented you the spyshots of an early test mule which wore body parts from the Rodeo. Bikeadvice.in reports that, according to its sources, the upcoming scooter will be powered by a 110cc engine.
Right now, Mahindra2Wheelers' entire scooter lineup is powered by a 125cc (except for the Kine which is powered by a 72cc engine). The upcoming automatic scooter is aimed at addressing the segment below, which is where the majority of the volume lies.
Mahindra has at its disposal a home grown 110cc mill that powers the Mahindra Pantero and the Centuro commuter motorcycles. It is likely that the new scooter will adopt the same engine albeit with suitable modifications. In the Centuro, we found the motor to be smooth and free revving.
The 110cc segment is ruthlessly dominated by Honda with its strong lineup of four scooters - Activa, Dio, Aviator and Activa - i. It is also to be noted that TVS is gearing up to launch its new 110cc automatic scooter.
Just like in the motorcycle space, Mahindra2Wheelers will have to battle it out with established rivals. If the Centuro is anything to go by, then we have a scooter to look forward to.
The status of the test mule which was spotted earlier suggests that the new Mahindra scooter still has a long journey ahead before reaching the showrooms.
[Note: The image of the Mahidndra Rodeo RZ is used only for illustration purpose only.]
[Source: Bikeadvice.in]