As Motoroids.com rightly puts it, the Verna is on its way to topple the German and the Japanese as it has attracted 5,000 bookings within five days of its launch.
There is more than one reason behind this enthusiastic outburst by Indians. The teaser campaign aired during the cricket games highlighting the Fluidic Scuplture design philosophy helped up the ante. The gamut of features and powertrain choices (remember IAB brought it first to you) have to be given equal credit. The Verna brand is not as strong as a City or even the Vento, but with this car, that's set to change.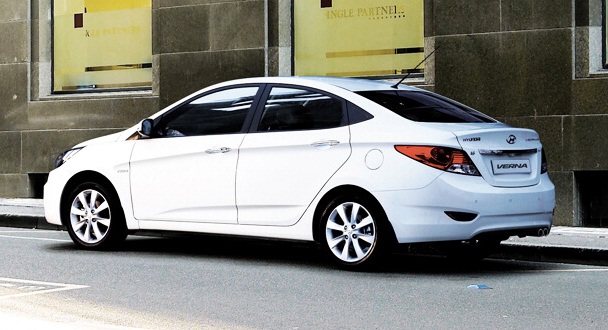 In recent times, Hyundai' perceived as a company with almost Honda' brand power offering vehicles at the price of a Maruti Suzuki. If the Verna goes on to clinch the title of India' best C-Segment car, this will be made clearer.
In India, a sedan buyer's statement to the society is "I've arrived." Pricing ten variants, in a span of five lakh rupees also has proved to be a great idea as there is something for everyone. A lot of people in India are looking for an upgrade to their hatchback too.
It is normal to see people go haywire post a launch. We have to see how long it is before the excitement dies down to understand the degree of success. But for now the Verna is a buzz word on Facebook communities, forums and blogs.
Why hasn't Hyundai involved online media in the build-up to the launch?
Hyundai' been running advertisement campaigns online but due to unknown reasons weren't interested in having some bloggers over at their launches despite being aware and critical of what's being written or shown online, at least here on IAB. Our emails to HMIL were not addressed and phone calls went unanswered. Later we learned that many popular blogs were neither part of the test drive program or the city-wise launches. Despite understanding that blogs have been instrumental in bringing awareness on this new product, we are confused why a step-motherly treatment was extended to us. We don't question, we're only confused.
Since late 2009, IAB (as of today, the 12th best automotive blog on the face of this planet according to Technorati) has been keeping pace with the new Verna. Believe it or not, over the last 22 months, we've posted 44 posts containing unique information related to the Verna on the Indian Autos Blog. Forget all that - an email from us, we thought, deserved a reply.
Arguably, the best coverage on the new Verna in India came from IAB. Our readers were extremely intrigued with our coverage on the Verna and the view count of teaser video which we embedded only once, and briefly stayed on the front page, back in late April, is one indication of how much our readers appreciated the coverage. The screen capture of the video's viewership statistics from Youtube explains the picture. It is disappointing that we were not able to bring them a drive report or even an analysis of a static car.