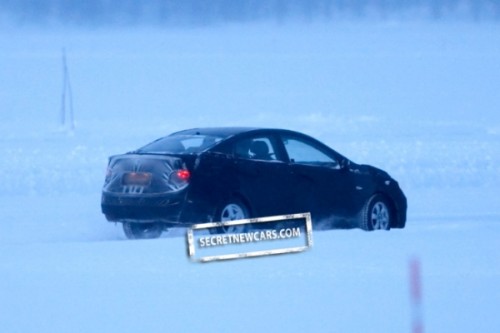 The next generation Hyundai Verna (Code : RB) could use the i20's platform
Secret New Cars published a couple of pictures of the next generation Hyundai Accent testing in cold weather.
Along with the pictures, the website mentions the new Accent/Verna, scheduled for a 2011 debut (and high possibility of an Indian debut almost immediately after), would sit on the i20's platform. The website refers to the car as "miniature Sonata YF" and we can't find another suitable description.
Previously, we understood that the regular CRDi engines and larger displacement 4 pot petrols will rest under the new Verna's hood. There are also chances for the 1.6 GDi that produces 140bhp to make it on to the RB, but the Indian RB is likely to feature traditional CRDI engines and to the maximum extent, a petrol engine with variable valve timing – which again is our best guess.
Source - Secret New Cars