Readers Sree Ganesh and Thangavel P caught the Nissan Sunny/V-Platform sedan/Global sedan on test in Chennai city traffic. Sree who is always on the lookout for new cars wrote us an email with all possible details of the catch -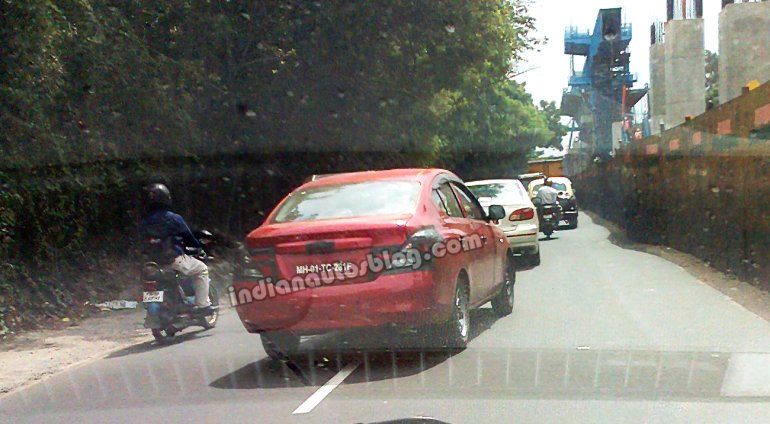 Car Spotted: Nissan Sunny (logos and lights taped with black duct tape)
Number of cars: 2
1st car - Red / Maroon : This is the base model with no alloy wheels, sporting black door handles.
2nd car - White : This would be the top-end variant with alloy wheels and body colored handles. This was the lead car. In my picture you will be able to see the red car with a very vaguely visible white car in front. I saw beige interiors on this variant.
What we deduce - Top-end variant will have alloy wheels and beige interiors.
Extra details (1) Both the cars had black sun visors over the window as an extra fitment. Could this be an accessory or part of the standard fitment?
(2) The red car seemed to have met with a minor accident with the right side corner of the front bumper visibly damaged (you know how test mule drivers cut across and speed, don't you?)
(3) There was very little camouflage on the cars with just black taping on the logos, headlights and taillights.
(4) Both the cars wore a red number plate. They were MH registered (Maharashtra).
Location: Chamiers Road (Chennai city), I clicked while waiting at the signal in the middle of Cenotaph road, just off Mount road which happens to be one of the busiest roads in Chennai.
Date: 1st July 2011
Time: Morning 9:20 Am (Peak office time for the junction)
A few days back, kilometers before Sree's spotting, eagle-eyed IAB fan Thangavel P spied the same cars testing on the GST road in Guindy. Thangavel's image (posted on top) are clearer and they depict the same picture.
Nissan Sunny spy video sent by reader Rathnavel
Nissan will launch the Micra-based sedan by the end of this year with both petrol and diesel engines. There will be a new 1.6-liter petrol engine joining the Micra's 1.5-liter diesel under this global sedan's hood. We're not sure what Nissan has decided to call it, but Almera is one probability.