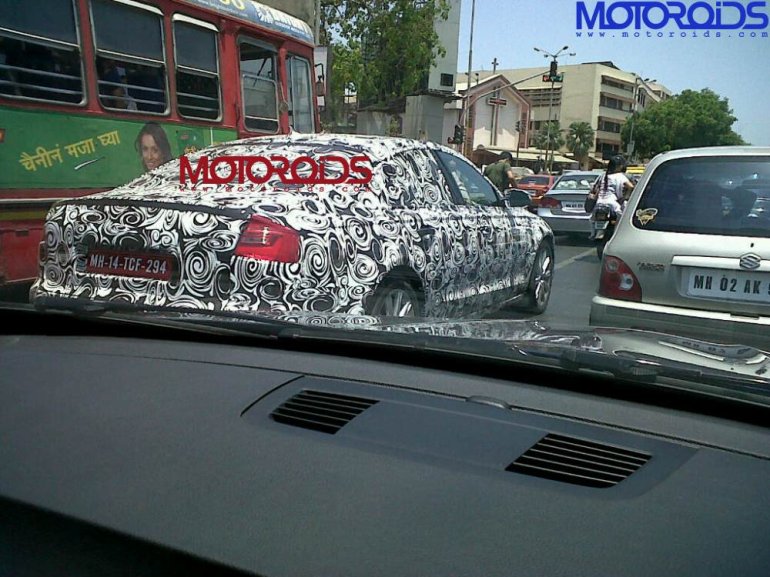 IAB readers will be aware of Audi India' plan to introduce the A6 saloon in August followed by the Q3 junior crossover early next year. Also planned are variants of existing cars later this year, but let's set that aside for another day.
The new A6 was caught testing by our friends at Motoroids near Mahim, Mumbai. The improved A6, as they point out, is visually very appealing pulling elements from exterior and interior of the larger and more premium A7. The A6 is the best seller in the Audi India portfolio. This segment is where maximum numbers are registered by the other two German companies as well.
Wearing swirl camouflage (seen on the Rapid test mule), the twin tail pipes and tail lamp design gave it away. Motoroids adds there will be a choice of four engines to choose from - 2.0- and 3.0-liter diesels producing 175bhp and 245bhp respectively while 2.8- and 3.0-liter petrol engines will churn out 200bhp and 300bhp respectively. The 2.0-liter diesel engine is available on other VW Group cars like Jetta, Laura, Passat and Superb. 6-speed manual and 7-speed dual clutch gearboxes are likely to feature on the Indian spec model.
When IAB contacted the local Audi dealer, we learnt that the older gen A6 is taken out of sale.  This Audi dealership ran a special offer to push off the stocks - a flat discount on purchase or a 0% interest scheme on a select payout option. Customers who come asking for the A6 are being told to wait for the new model' introduction. With the A6 in August and Q3's arrival next year, we expect Audi India to narrow the gap between the four rings and the three-pointed star.
Source - Motoroids.com