This particular Yamaha YZF-R15 has undergone a massive overhaul and received features that make it smarter than your average motorcycle.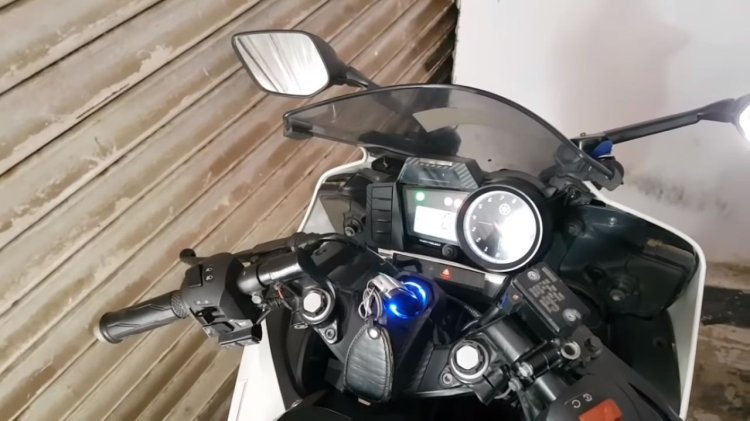 Also read: This Silver Yamaha RD350 is a rare gem and it's still running
Christened 'Raptor', this YZF-R15 gets an automatic headlight, electronically operated rearview mirrors, and a pillion seat ejector. It's not particularly an ejector seat that you would see in a Bond film to deal with an annoying passenger. Instead, it is a convenience feature that eliminates the need for the key to access the underseat storage.
The keyhole features a LED that lights up as soon as the motorcycle is switched on. The electronically operated rear view mirrors open automatically. You'd hear an alarm clock sound that warns you if the centre stand is down. On the fuel tank is an aftermarket Multi Information Display. The unit displays GPS data, caller ID and crucial information about the motorcycle. All the information can be toggled through using the touchscreen on the Multi Information Display. The display also adds the convenience of Bluetooth connectivity that lets you control the music and calls on the go.
The display mounts are custom built for the Yamaha YZF-R15 and occupy the space next to the fuel filler cap. The panel is neatly crafted to suit the motorcycle's styling.
A key fob adds more features to the motorcycle. It can be used to start the headlight and illuminate the path in case you were getting out of dark alley, or parking spaces. The headlight is also equipped with smart features such as Auto On, Auto Low Beam and rear tyre low air warning. Smartphone and other devices could be charged on the go with an inbuilt charger.
A special, Bluetooth enabled helmet accompanies the motorcycle.
Also read: Bajaj Pulsar with 350 cc engine modified to look like the Kawasaki Z1000
There are no other visible changes as the motorcycle continues to use the stock, step-up pillion seat and the factory installed exhaust. Changes to the mechanical specifications have not been mentioned and thus we expect the motorcycle to use the stock 149.8 cc, single-cylinder, liquid-cooled, 4-stroke, SOHC, 4-valve, fuel injected engine that delivers 16.8 bhp of maximum power at 8,500 rpm and 15 Nm of peak torque at 7,500 rpm.