Motorcycles are an extension of one's personality and where some prefer a sports bike, others opt for a naked roadster or an ADV. However, there are a select few who believe in exclusivity and go the custom route to personalise. A case is this modified Yamaha RX100 from Ornithopter Moto Design.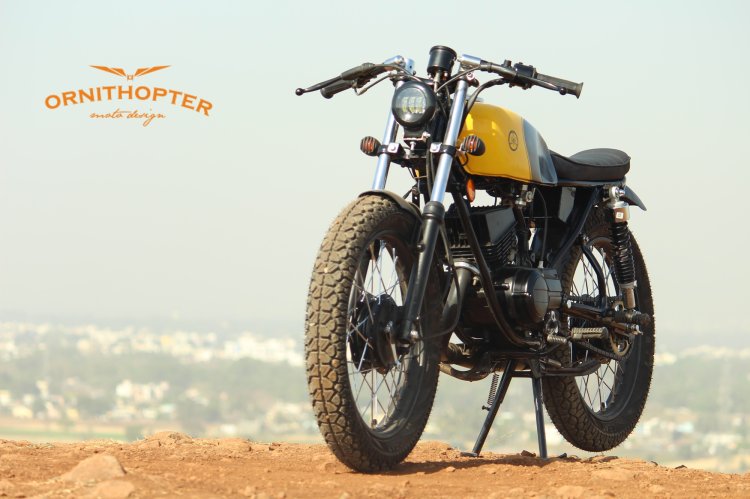 The designer, Amol Khond - Owner of Ornithopter Moto Design, has chosen a unique design for the Yamaha RX100, which is a mix of a scrambler and a cafe racer. While the overall styling is that of a scrambler, the clip-on bars lend the unique cafe racer look to the motorcycle. The customizer has retained the stock 18-inch wire-spoke wheels on the RX100. However, they are wrapped on knobby 100/80 section off-road biased tyres, which should offer a lot of grip during trail riding.
Also read: Custom Yamaha RX100 modified into a scrambler - 10 live images
The fuel tank has been redesigned to add knee recesses for rider comfort manoeuvring through off-road sections. There are chopped fenders at the front and back and a single-piece quilted leather seat. The custom Yamaha RX100 scrambler has been stripped to the bones to make it lightweight. The side panels have been removed, while K&N performance air filter replaces the air-filter box.
The clip-on handlebars are designed and built in-house by Ornithopter Moto Design. The fuel tank features a dual-tone yellow and matte grey paint scheme, while the wheels, engine, exhaust and mudguards receive black detailing. The custom Yamaha RX100 features an aftermarket circular LED headlight According to Amol Khond, the whole work was finished within 45 days.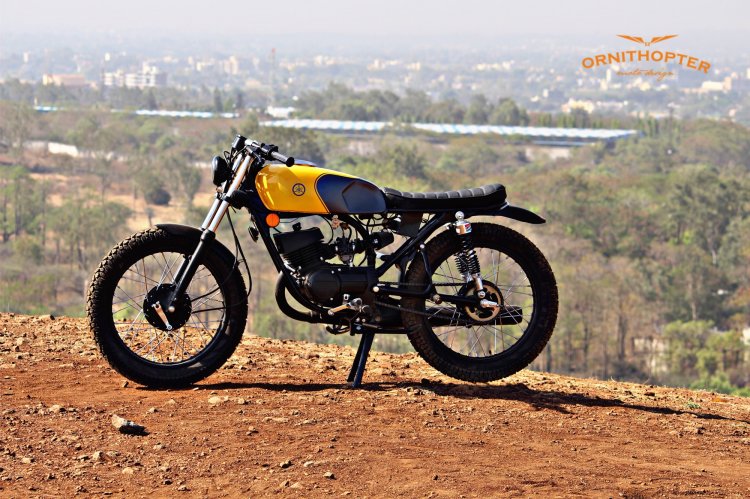 Also Read: Top 5 modified Yamaha RX100 in India
The Yamaha RX100 is infamous for competing in various drag races across the country. The raw power and acceleration that the 2-stroke engine provides are unmatched by any modern-day 4-stroke motor with the same displacement. Powering the RX100 is a 98cc, single-cylinder two-stroke mill that pumps out 11 bhp of power and 10.39 Nm of peak torque. It is mated to a 4-speed gearbox.