Previously, we saw a Yamaha R15 being modified to incorporate features like a compact touchscreen display and an ejector seat. This time, we have another Yamaha R15 that has received a significant visual and feature overhaul that makes it a smart motorcycle. Kunal Custom Design has created a unique R15 that comes packed with features such as a 6.95-inch touchscreen display and cruise control.
Also read: Modified Yamaha RX-135 by Royal Custom has the best of Japan & Austria [Video]
The base motorcycle in this modification is the Yamaha YZF-R15 V2.0. The revised fascia includes an aftermarket headlight that comprises an LED projector for better illumination and an aggressive look to the front. Decals with carbon fibre texture further enhance the sporty look of the motorcycle. The headlight also gets integrated LED blinkers. The front blinkers are not limited to the units that are seen in the light. The custom house has also integrated LED turn indicators into the rear-view mirrors and on the fairing.
Another feature on the front is the pair of motorised rear-view mirrors that open and close automatically. The mirrors are the stock units that come with the motorcycle, but they have been tweaked to incorporate the new features.
A repositioned instrument console, which is now accompanied by a 6.95-inch touchscreen display onboard, follows the fascia. The massive screen offers access to all the functions on the motorcycle and various features such as navigation and incoming message notification. Moreover, on the top right side of the display is a fingerprint scanner that is one of the three ways to start the motorcycle. The other two options include a key fob and via smartphone.
All the features on the YZF-R15 can be accessed via a smartphone, and in case the rider loses his way in the parking lot, he can find the motorcycle via a GPS tracker. The feature can also come in handy in case the bike goes missing. Stealing this YZF-R15, however, will be next to impossible as the bike is fitted with a movement sensitive anti-theft system with a loud alarm.
The feature list does not stop there. To ensure utmost comfort during the highway runs, Kunal Custom Designs have installed a cruise control system on the R15. Lastly, there's a tyre pressure monitoring system so that you are always running on the right air-levels.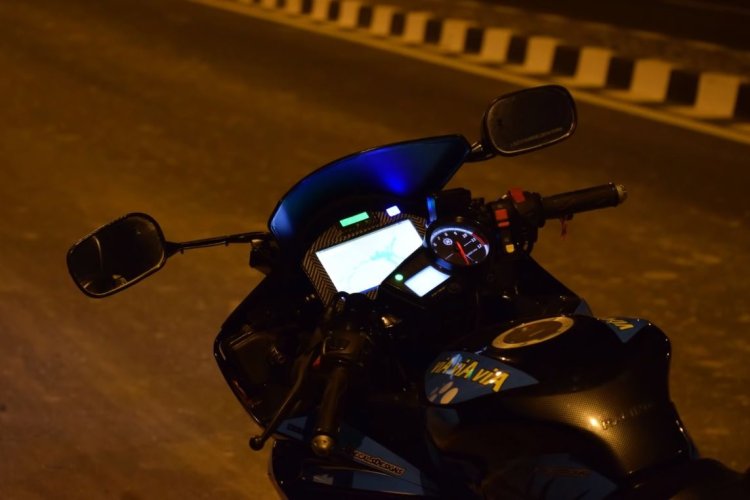 Also read: Yamaha to introduce Bluetooth-enabled instrument clusters in India - Report
It is a comprehensive upgrade to the Yamaha R15, and Kunal Custom Designs deserves a round of applause for the bike.