First launched in 1998, the Tata Safari can be heralded as the first-ever Indian SUV. In spite of a pretty lacklustre sales performance (average monthly sale between July-December 2018 - 521 units), the 7-seat SUV enjoys a dedicated set of followers across the country, and even in some international markets where it is sold. Over the years, Safari has seen various upgrades and presently comes across as a well-sorted option for those looking for an affordable but sufficiently rugged SUV. Here is a look at some stunning examples of the Tata Safari. While some of these feature aftermarket upgrades, others have been customised in-house by Tata Motors - 8 outstanding modified Tata Safari SUVs.
Tata Safari 'Moon Rover' by Big Daddy Customs
This modified Tata Safari has been in the limelight for its Range Rover Evoque-like looks. Done up by Big Daddy Customs with the Moon Rover concept, the customised SUV features several updates that give it a profoundly different visual identity. In fact, the custom job has been executed so well that it takes more than a glance to establish the true identity of this SUV. Up front, it features a chunky new bumper that carries a faux skid plate and LED DRLs. The front-end features a sleek pair of headlamps and a new grille, both of which help this Safari mimic an Evoque. The front and rear fenders, and the hood have been suitably altered to obtain a bold look that is similar to that of the pricier SUV.
Modified Tata Safari Tuff Concept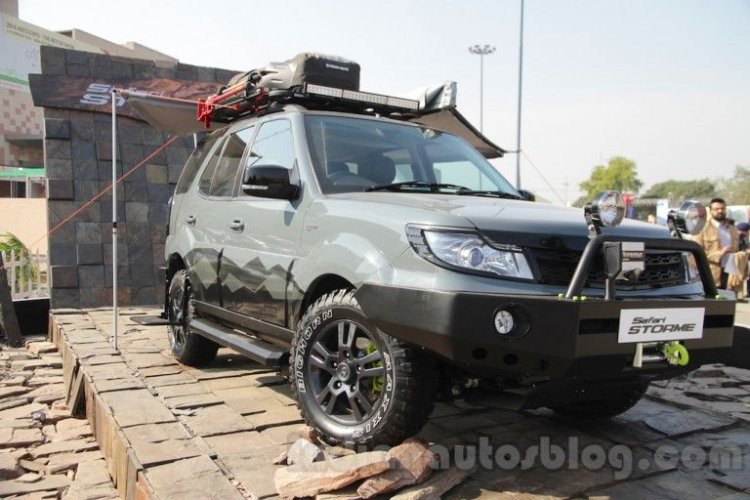 Displayed at the Auto Expo 2016, the Tata Safari Tuff concept was done up by the company's Personalization Studio. It is based on the Safari Storme and gets many add-ons that make it more rugged. Up front, it gets a metal bumper with a huge bull bar that carries a set of auxiliary lamps. Furthermore, the custom model gets a tow hook, a revised grille, and bespoke trim on the headlights. In the side profile, you'll be quick to notice the black-painted alloy wheels shod with off-road-spec tires, new footrests, and 'Mountain' graphics in the lower portions of the doors. The ORVMs have been painted black to achieve a bolder look, while the roof carries a luggage carrier and a LED light bar.
On the inside, this Tata Safari features a 2-DIN touchscreen infotainment unit, tyre pressure monitoring system (TPMS), GPS-guided navigation, water-resistant seat covers, rubber mats, car care kit, and an air freshener. The list of optional features includes a reverse parking camera, tire repair kit, and a refrigerator.
Also Read - Check out these 10 stunning modified Honda City sedans
Tata Safari Storme Mountain Rescue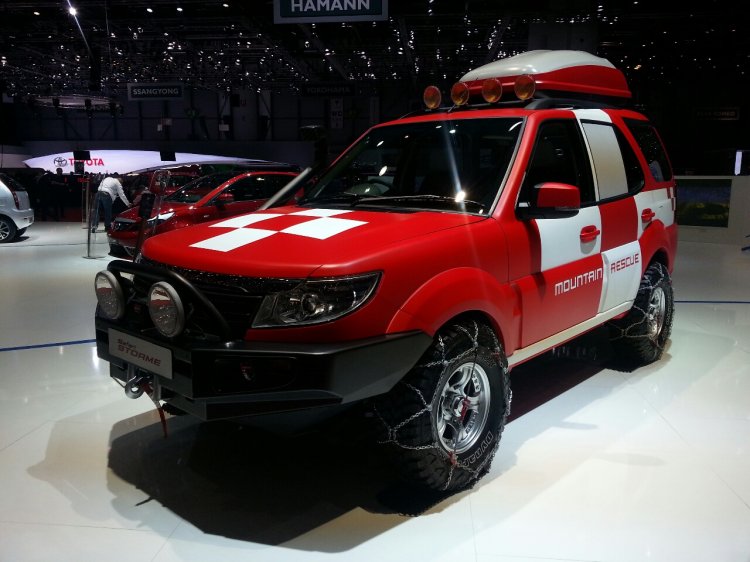 The Tata Safari Storme Mountain Rescue debuted at the 2013 Geneva Motor Show. It comes across as an appropriate vehicle to carry out rescue operations in the snow-covered areas of the Alps. The front-end of the SUV gets a metal bumper with a bull bar that carries auxiliary lamps. Highlights of the side profile include off-road-spec tires that are covered with snow chains to help the SUV find traction on the snow-covered terrain. The concept even gets roof-mounted fog lamps and a luggage box. Another talking point of this SUV is the red-white chequered paint scheme.
Tata Safari Storme with Body Kit from MotorMind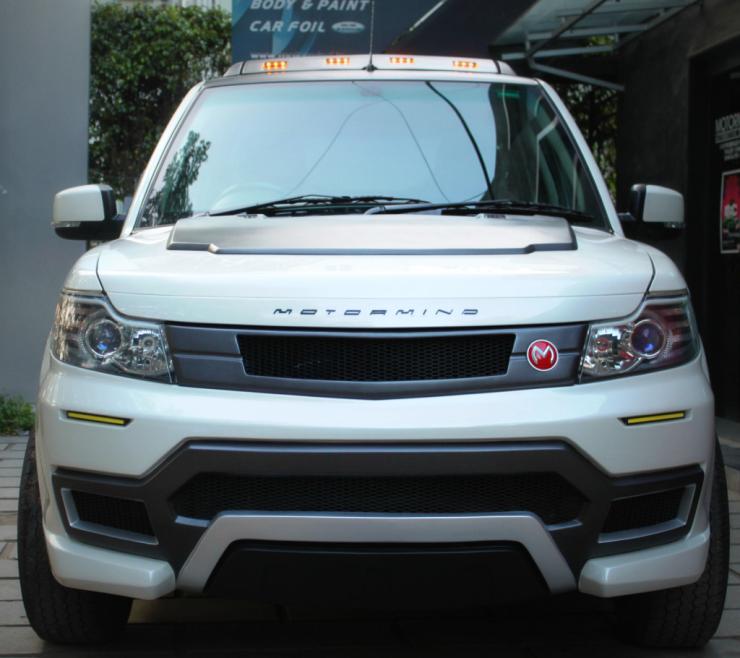 Here is a sporty looking Tata Safari Storme that has been done up by Motormind Automotive, a Bangalore-based car mod shop. The updated SUV carries a custom body kit that makes it look sportier than the original version. At the front-end, it features a new bumper with a gaping air dam and thin LED strips. The stock grille has made way for a custom unit with a 'MotorMind' insignia's placed near the left headlight. Moreover, this Safari gets hood ornamentation and roof-mounted hazard lights. Other updates include bolder wheel arches and new alloy wheels that have been shod with wider tires.
Tata Safari DICOR by KitUp! Automotive Coimbatore-based KitUp! Automotive is renowned for offering body kits that can easily jazz up the aesthetics of any Indian vehicle. Even the Safari DICOR seen above features an updated styling package that is courtesy of several various updates it carries. At the front-end, the SUV gets a revised bumper that has a cleaner look than its stock counterpart and boasts a wire-mesh grille for the lower air dam. Even the original grille has made way for a mesh unit, while the hood has been updated with a faux air vent. The SUV rides on aftermarket alloy wheels. It even gets blacked-out pillars and black window tints.
Also Read - 10 Stunningly modified examples of Maruti Gypsy from across India
Modified Tata Safari Storme Ladakh Concept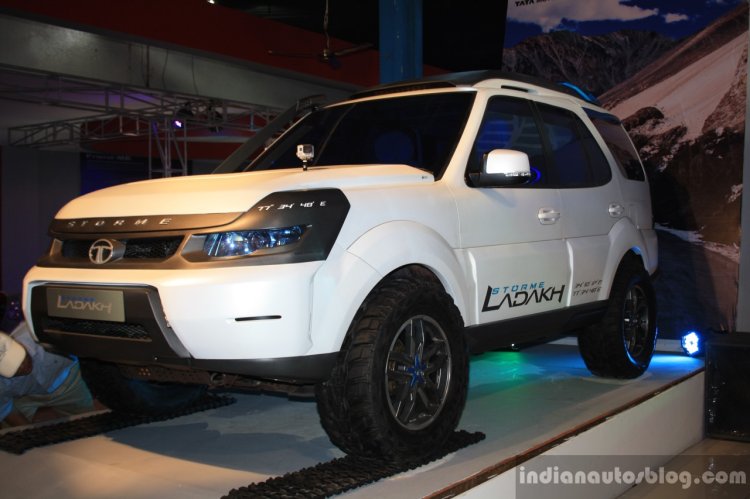 The Tata Safari Storme Ladakh concept debuted at the 2014 Auto Expo. It features a set of upgrades that make it look more robust as well as more upmarket. At the front-end, it gets a revised grille and a new headlamp cluster that looks sleeker than the stock units. The bumper has been altered, too, and has a two-tone appearance. In the side profile, the Storme Ladakh Concept gets new alloy wheels shod with off-road-spec tires. On the inside, it gets anodised blue accents and a dark interior colour theme to mimic the landscape of Ladakh.
Modified Tata Safari Storme from Indonesia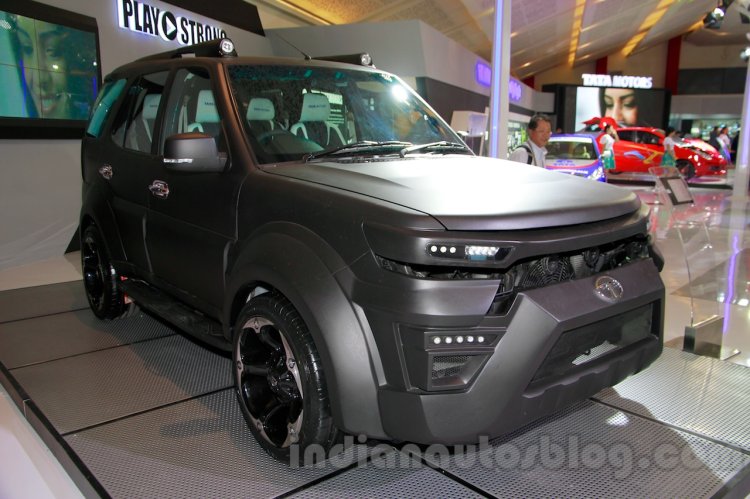 Tata Motors displayed a modified version of the Safari Storme at the Indonesia International Motor Show 2014 (IIMS 2014). The front-end of the custom Safari features an updated fascia, which, as per the manufacturer, takes inspiration from the stealth fighter jets. The revised facade carries a huge bumper, LED fixtures that replace the headlamps, and a new front grille. Highlights of the side profile include flared wheel arches and new alloy wheels that are shod with low profile tires. The roof rails carry a searchlight each, while the rear end gets a new bumper and bespoke trim for the taillights. On the inside, the modified Safari Storme has a dual-tone black and white colour theme. Another highlight of this modified Safari is its matte dark grey paint job.
Also Read - 11 Stunning Mahindra Thar modifications from across India
Modified Tata Safari Brute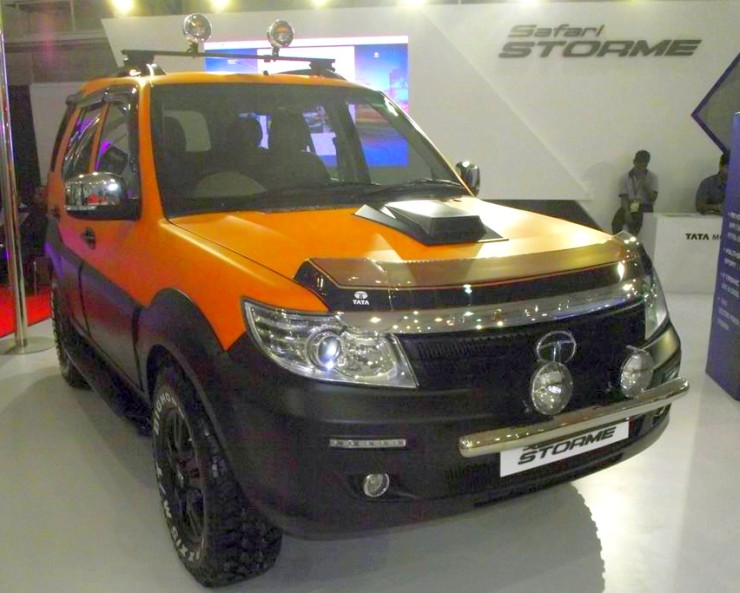 The Tata Safari Brute is another in-house custom job that features many subtle updates for an enhanced appearance. The customised SUV gets a dual-tone matte orange-black paint scheme that makes it look a tad bolder than the donor model. At the front-end, it carries LED DRLs, a pair of auxiliary lamps and a bug screen. The hood gets a faux air intake, while the roof features another set of extra lights. In the side profile, it features a new set of alloy wheels that are shod with Mud Terrain (M/T) tires. The rear-end gets an exposed tow hook.