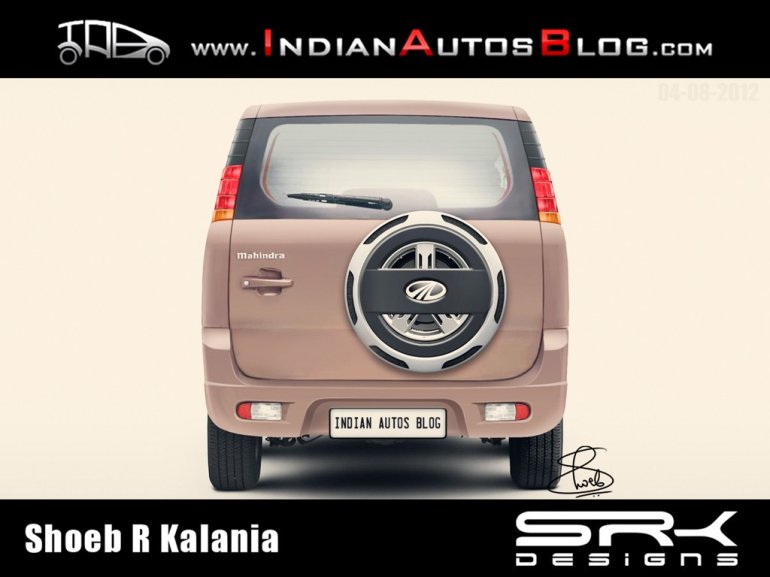 The top-end variant of the Mini Xylo was spied recently when it was testing in Tamil Nadu. Now a passionate Indian Autos Blog reader Rohit Khapare mailed us his spyshot of the car, which once again puts the spotlight on the top-end variant.
The Mahindra Mini Xylo is a Diwali release that could be on the shopping list of so many hatch and sedan prospective customers.
To spice up things, our image specialist SRK uses his creativity to present the rear of the Mini Xylo. The rendering is of the top-end variant which will sport body colored bumper, spare wheel cover and a rear wiper. The spare wheel holder sports a Mahindra badge at the center, and is made of plastic.
The wheel cover is a nice touch to the otherwise familiar rear profile. It also goes a long way in helping Mahindra pitch this vehicle as a mini SUV as an exposed spare wheel is a signature design feature on such vehicles.
As we informed you earlier this month, the mini Xylo should be fitted with a 1.5-liter 3cyl twin-turbo diesel engine producing 100hp@3,750 rpm and a torque of 240Nm between 1,600-2,800 rpm. The mini Xylo could also be a seven seater in some variants with space for two children in the third row.
Will Mahindra launch the Mini Xylo before 21.12.2012?
;-)