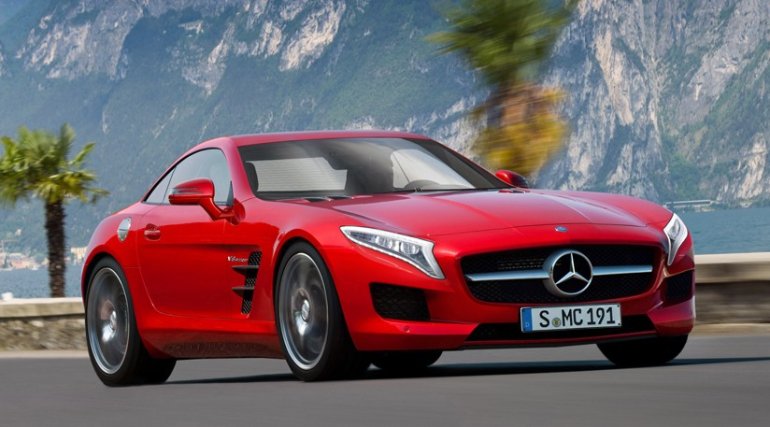 The SLS AMG has been the flagship offering from the Stuttgart based manufacturer for quite sometime now. It was launched in India over the past two editions of the Delhi Auto Expo.
Available in two body styles - coupe and convertible - the SLS has received its fair share of bouquets and brickbats.
The general criticism is that the car is unable to put its massive 563bhp on to the road. And in most instances (you might have seen on a British motoring show), the SLS shreds its rear tires quite quickly. A famous British motoring presenter who is a big fan of the SLS described its short life on the track as "I love a car that eats itself."
Meanwhile, deep in the skunkworks of Stuttgart, work on the SLS AMG successor has already started. And the news for the better part is pretty good. The successor is going to be smaller, lighter and hence 'agiler' than its predecessor.
Mercedes could also the name the new car as the SLC AMG, though for now it is internally coded as the C190 (makes you think of the old C Class doesn't it?). It should be out by 2015 and would command a lower asking price at £ 70,000 (INR 60 lakhs). The current SLS comes in at £ 177,000 (INR 1.49 crore).
So in what way is it going to be modern than the outgoing model? For a start the SLC would use the updated version of the space-frame aluminium chassis featured on the SLS. And somehow (weird to say this, but it is completely logical enough) there would be lesser powerful models than the current SLS.
A 4.0-liter V8 good for 485bhp and 678Nm would form the lineup (Porsche 911 Carrera S beware). The same engine could also be tuned to produce 585bhp and 750Nm torque (cue the Porsche Turbo S).
Naturally, Mercedes fans would be expecting the SLC GT or the Black Series. However, for those of you with a 'limited budget', a 3.0-liter V6 producing 333bhp would be eventually offered as well. A 7-speed dual clutch gearbox would find its way in the SLC AMG.
Another interesting aspect is that the SLC would ditch the gull-wing doors for the more conventional one's citing the increased body stiffness as a reason.
[Source - CAR UK]