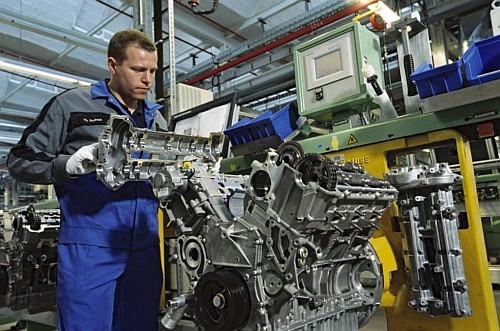 Mercedes Benz recently achieved the milestone of having produced 1 million (yeah! 1 000 000!) V6 engines at its Berlin facility. The Berlin factory is the oldest factory of the Daimler group.
Thomas Uhr, Plant Manager -
Although this is the oldest plant in the Daimler Group in historical terms, the magnificent enthusiasm and commitment of our workforce has kept it young and dynamic.
To celebrate this event Mercedes Benz had the children from their plant's creche to paint a papier-mache wall which was built for the 1 millionth engine can crash out of it as it comes out of its production line.
The V6 engines on the Mercedes Benz E-Class offered in India, the 350 CGI petrol and the 350 CDI diesel are all produce at this facility in Berlin. It is to be noted that Mercedes Benz was one of the first luxury car makers to introduce the V6 engine into India.
Mercedes Benz also stated that it would begin producing a V12 engine with an electric motor integrated to its transmission at this facility soon.
Source: autoevolution