The Maserati Ghibli is the turnaround specialist the Italian car maker has dialed in to get them out of all troubles by 2015. From currently selling 7,000 odd cars per annum to the targeted 50,000 units per annum by 2015, Maserati has a lot riding on the Ghibli.
[Can't watch the video above? Head over to YouTube]
The Ghibli was announced at the 2013 Auto Shanghai. This was a perfect setting as Maserati forecasts a large number of Chinese customers for their cheapest car. The Ghibli is being positioned alongside the top-end variants of the BMW 5 Series and as a result, could find a lot of customers.
This video was posted on YouTube by 'TheMAXIMUMCARS' and apparently Maserati was shooting the promotional video/commercial for the Ghibli somewhere in Rotterdam, Netherlands.
You can also see the 'Russian Arm' which happens to be an AMG tuned black color Mercedes ML63. European car makers use this particular car as it can reach high speeds, corner dynamically and has plenty of space and articulation for the camera equipment.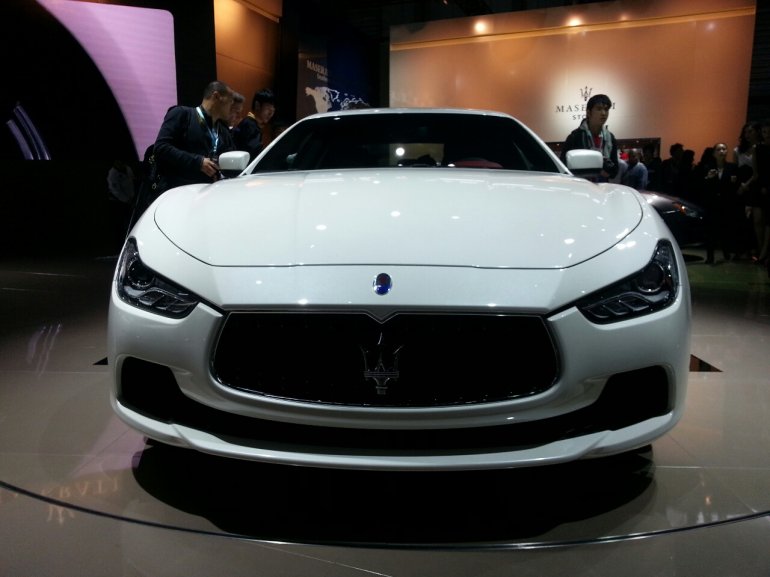 What we were interested in was the noise this little Maser makes. We think this could be the 3.0-liter V6 petrol (although we're wishing it is the diesel as they've specifically come on record stating that it wouldn't sound like one!) and the tuned exhaust sounds fantastic! You should check this video out for yourself though.
The 3.0-liter diesel engine is one of the talking points of the Ghibli. At the same time, the oil burner will also average 16.66km/l.
Still thinking of that 5 Series? Sales of the Ghibli are expected to commence in the next few months.