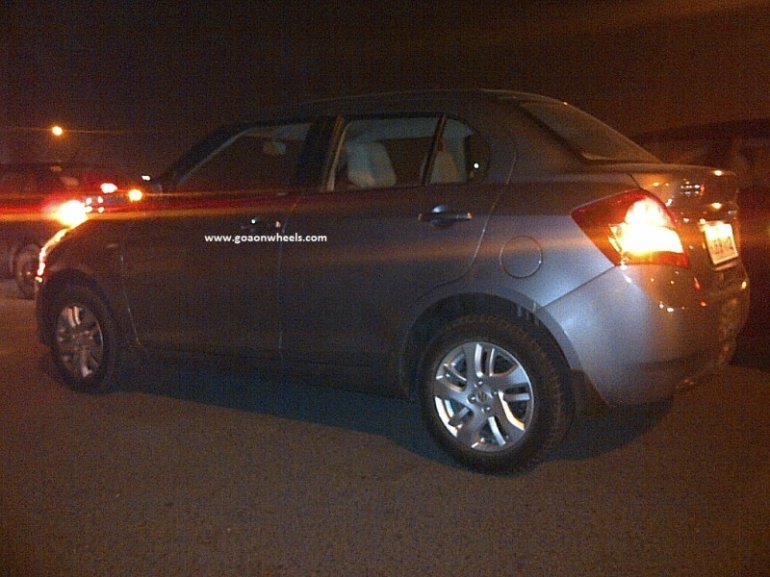 GoaOnWheels have published a smashing scoop on their front page today thanks to petrohead Abishek Bathla who snapped the compact Dzire on the Delhi-Noida toll road. The new Dzire is under four meters long as the government offers excise benefits for cars that measure under four meters in length and use downsized engine. Maruti has figured out a way to instill some style into the 2012 Dzire -the boot lid is tapered off Kizashi style!
The new Dzire is undoubtedly Maruti's first launch in 2012 followed by the Ertiga MPV. We expect Maruti to come out with an announcement on the launch date in the next few weeks.
The GOW report quotes Maruti's marketing head Mayank Pareek confirming that due to good demand, certain variants of the existing Dzire will be sold alongside the new one for the commercial segment. Pareek played down rumors of the new Dzire adopting a lower price compared to the current model as the replacement sports as many as 150 new features.
We don't need a fortune teller to know what's creeping under the bonnet. The 1.2-liter K Series engine with variable valve timing makes the cut along with the oil-burning 1.3 MJD mapped after accounting for the extra weight.
Details around the branding is not clear at this point. We don't have to wait very long to know if the Swift-based sedan will have a dual suffix!
[Source - GoaOnWheels.com]