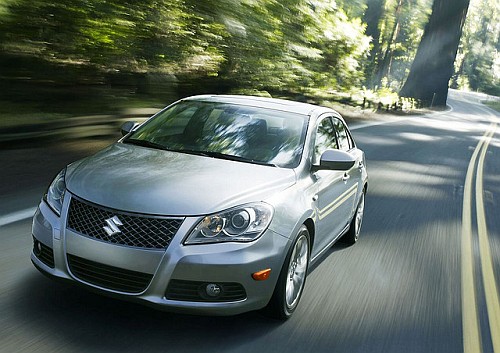 CNBC TV-18 is reporting that Maruti Suzuki is set to launch its Kizashi luxury saloon into the Indian car market on the 28th of next month. The Kizashi is Suzuki's first luxury saloon and will be Maruti Suzuki's first ever offering in the entry level luxury saloon space.
The Kizashi will be launched with both manual and automatic transmission options, But there's a twist. Contrary to earlier reports, Deccan Herald claims the Kizashi will not feature the 2.4-liter, inline-four, petrol powerplant pumping out 185 bhp of power and 230 Nm of torque.
It instead will be powered using a 2.0-liter petrol engine with slightly less power and torque.
Due to reasons of cost, the Indian Kizashi is most likely to be offered only in Front Wheel Drive (FWD) guise, unlike international markets where an All Wheel Drive (AWD) version is also offered. Maruti Suzuki could launch the AWD version of the Kizashi at a later date, to take on the mighty Skoda Superb 3.6 V6 AWD.
Considering the rivals (Skoda Superb, Honda Accord) awaiting the Kizashi once its launched, Maruti is considering pricing the Kizashi a bit aggressively in the 18-20 lakh price bracket, which will place the Kizashi smack bang in Skoda Superb territory. Such pricing could also give the Kizashi a leg up on its other rival, the Honda Accord.
But, will the weight of the Maruti brand rein in the Kizashi from setting sales charts on fire or will it propel it to the top of the leader board? Only time will tell.
Source - Deccan Herald