Our good friends at Oncars.in have managed to catch a camouflaged Suzuki test mule which they claim is a successor to the Maruti 800.
As we know that Maruti Suzuki is developing a small entry level hatchback that will replace the Alto F8D and the legendary Maruti 800. The car (Codenamed YE3) is expected in early December so testing should have begun by now.
As one can see that the detailed spy shots reveal an almost production-ready hatchback that is slightly bigger than the 800 and the Alto. The new hatchback is based on the old 800 platform and will use Alto's 800 cc engine. But it gets a completely new design which, to be  honest, feels like it is inspired by a lot of cars that are on sale in India.
The headlamps and the front bumper seem to be inspired from the Ford Figo. The huge hexagonal grill is reminiscent of the A- Star. The grill has a small horizontal chrome slat with a Suzuki logo embedded in it. The hood features an extremely sharp crease sweeping to the A-Pillar.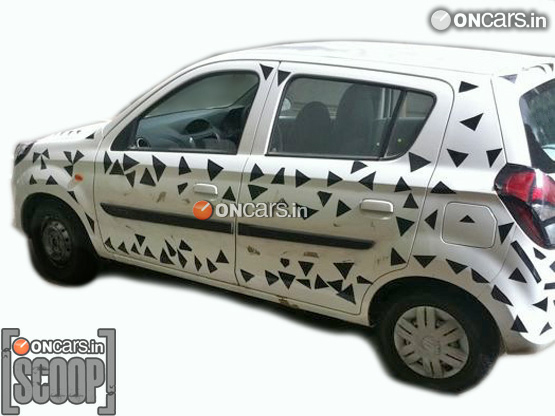 The side profile is a mash up of Figo and A-Star. The rear window kink reminds us of the Swift. A very sharp crease starts at the headlamp and goes right to the tail lamp. The wheel caps are very Figo-ish. The roofline is slightly taller than the current Alto which should translate to a better headroom.
The rear almost seems like it was designed by Hyundai designers. The overall shape resembles of the i10 but with i20 inspired tail lamps at both ends. The rear image also reveals that this is an LXI variant (essentially a base variant with less frills).
So essentially the 800 successor seems to be very much inspired by the Figo, i10, Swift, A-Star and i20. While that is a nice pedigree to have, is the summation synergistic is the question?
So do you like what you see?
[Source: oncars.in]