Today, some really awesome developments have come to our table. Out of the blue, some interesting spyshots of the XUV500 have surfaced on the internet. You might say "What so interesting about that? There are so many available on the internet, one can make a 100 page photolog out of it"
No sir! For the first time, a member from The Car and Bike show Facebook page has snapped interior shots of the XUV500 revealing all the goodies that Mahindra has stored for us. The XUV500 (codenamed W201) has been on test in India since ages now. But these teaser images are making us drool as the launch is getting closer. The interior shots just make us go WOW!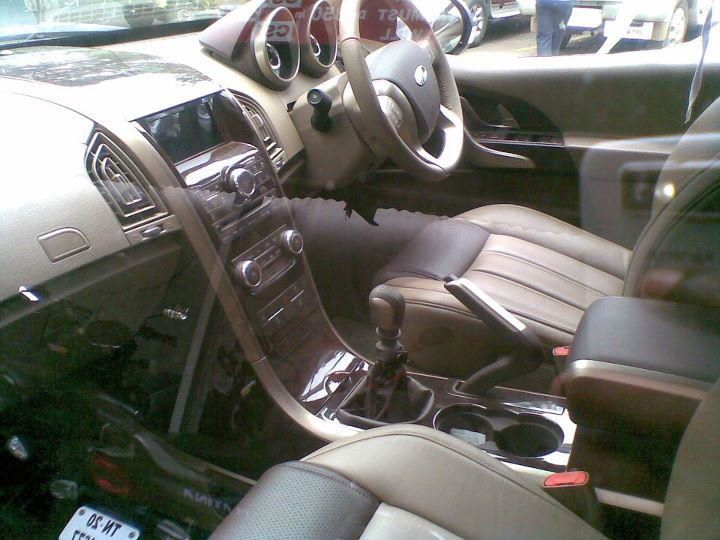 The interiors of the XUV500 are symbolic of a huge leap that Mahindra is about to take in the SUV segment. The company that started of making utility vehicles and vans, has come to a stage where it can showcase a global product with interiors that can rival international products such as the Toyota Fortuner and the Hyundai Santa Fe.
The dual tone dashboard is subtly garnished with brush aluminum inserts to add a touch of luxury to the XUV500. The handbrake is ergonomically designed and reminds us of the Honda Civic. The center console has a lot of buttons and dials on it indicating that the XUV500 will be fully loaded with some tech goodies. A small screen on the top of the center console will provide some driver info on the go.
The 4 spoke steering wheel is leather wrapped and loaded with steering mounted controls. The chrome inserts on the dial cluster further enhances the luxury appeal of the SUV. The dual tone leather seats and the wide armrest are very tastefully designed.
Some exteriors shots also reveal that the XUV500 will come with daytime running lamps, chunky alloys and turn indicators on OVRM.
From what you can expect from luxury SUV, the interiors are pretty much bang on. We hope that Mahindra gets the fit and finish and the quality of materials right on the inside. A while back, an image was released of the exterior of the XUV500 which had shaken our confidence in the product. However, we think that it was a very premature image of the prototype and the final product would be much different.
So what are you waiting for? We want to know all of what you think about the interiors of the XUV500 in the comments section.
[Source - Facebook.com/cnbshow]