We've not been hearing much about the XUV500 from the view of product updates. That isn't confusing as Mahindra is having enough trouble producing cars in accordance to the demand.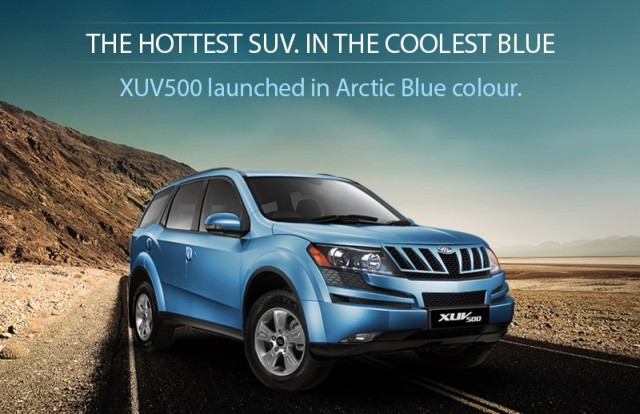 The XUV500, boasting of many firsts for Mahindra, is a runaway success. It is the fastest, in the SUV category, to reach 50,000 units in sales.
The crown maybe robbed by the Renault Duster this year, and perhaps the launch of the EcoSport can change the situation once more, but the XUV500 could well be one of the most profitable SUV models launched by an Indian company.
Mahindra is rumored to be reworking on-board electronics and the braking system on the back of customer complaints. Many quality issues have been reported, though in recent times these teething problems appear to have been solved. We don't have anything official on the improved variant for now, but here's some confirmed news arriving from camp Mahindra -
Today Mahindra announced that it has launched a new body color, 'Arctic Blue' in addition to the six existing body colors for the Mahindra XUV500. A while back, Volkswagen India introduced a dark blue for the Volkswagen Vento. Fiat relaunched the Punto and Linea in January 2012, showing these cars beneath (blue) water donning blue paintwork. Ford and Maruti used different shades of blue as brand communication shades on recent product launches (Fiesta and Alto 800).
Is the Indian auto industry listening to Eiffel 65 on its way to work?
Mahindra's hope of exploring many new global markets hinges on the XUV500. Mahindra need to develop a petrol engine, an automatic transmission, and present its SUV with softer looks to be able to achieve this goal.