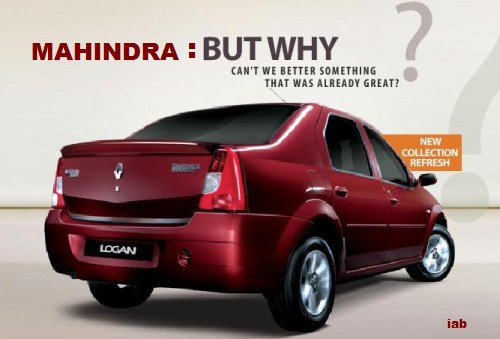 Mahindra and Mahindra is holding negotiations with its former JV partner Renault for reworking on the Logan platform to develop new vehicles, reports Business Standard.
M&M which recently bought out Renault's 49% stake in Mahindra Renault Private Ltd, has now got exclusive rights for the Logan platform in India. But still, Mahindra has to pay Renault additionally to get rights to work on the Logan's design.
The shortened boot version of the Logan could be launched soon. M&M recently announced that the company is checking the feasibility of the shortened version of the Logan (we call it Logano!).
Also the Renault badge and the Logan name would be used only till Dec 31, 2010, after that it would be badged a Mahindra and could carry a new name.
M&M also announced that it would be looking to develop the Logan platform into a utility vehicle, MPV, SUV or a crossover and has no plans to develop it into a new sedan.
It is to be noted that after Mahindra broke off with Renault, it slashed the prices of the Logan by about Rs. 80,000.
Click here for Indian Autos Blog's exclusive rendering of the shortened Mahindra Logan.
Source: Business Standard