The Mahindra S101 compact crossover continues to test in Chennai. These images come courtesy of Auto Carma's reader, Goutham Balaji, who spotted this test mule in Chrompet, Chennai, which is about 30 km from the Mahindra World City.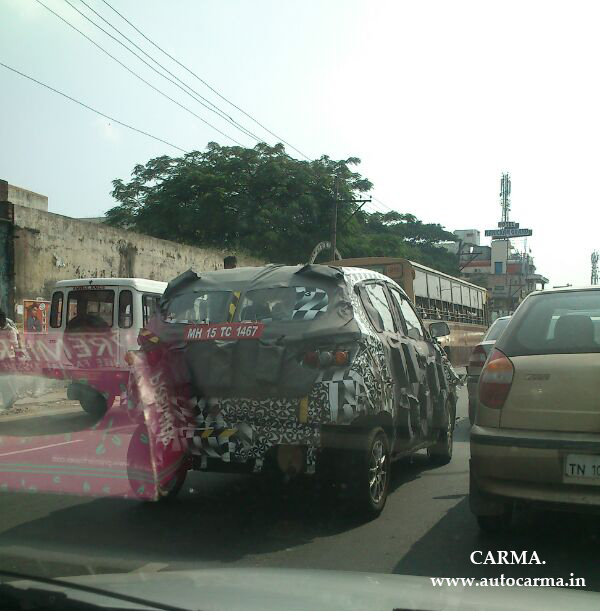 The first image gives us a clear look at the S101's rear, though Mahindra is yet to finalize on the design of many components such as the bumpers, taillights and several body panels. However, it gives us an idea of the S101's silhouette and our initial impression is that it would be more like a hatchback on stilts, and maybe Mahindra would incorporate certain SUV-like elements such as a tailgate-mounted spare wheel.
The S101 would measure under 4 meters in length and is reported to be an EcoSport challenger. Mahindra would offer the S101 with a petrol and a diesel engine option. While the diesel engine could be the 1.5-liter three-cylinder unit (which also powers the Mahindra Quanto), Mahindra has confirmed that they're working on a new family of small petrol engines.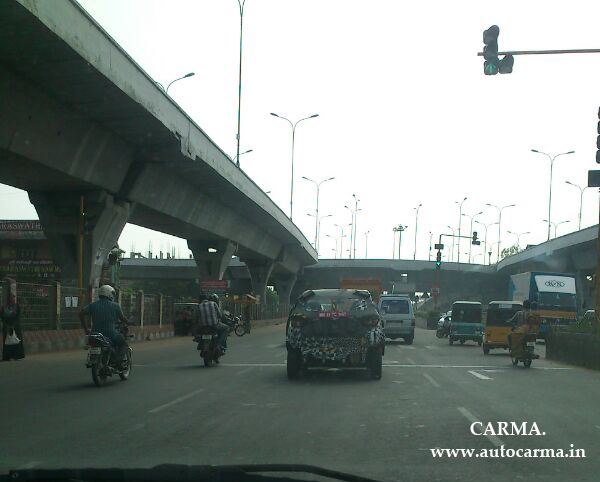 Check out previous spyshots of the Mahindra S101
These all-new petrol engines are believed to be a three-cylinder, turbocharged, 1.2-liter unit (which would be an ideal power plant for the S101, or for that matter, any sub-4m vehicle) and a four-cylinder, higher displacement version of the 1.2-liter unit.
The S101 is unlikely to launch before 2016. Until then, Mahindra will introduce new variants (such as the W4 XUV500) and refreshed products (Scorpio facelift) based on their existing offerings.