As we reported a couple of hours ago, the launch of the Mahindra Maxximo Mini Van has drawn to a close. More details have been made available like features and tech specifications.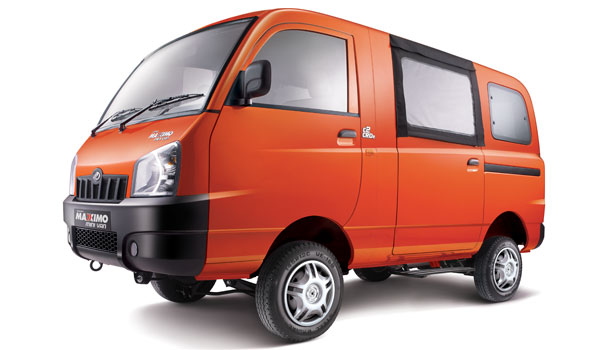 The 900cc twin-cylinder CRDI engine produces 25 HP taking the Maxximo Mini Van to a top speed of over 70 Kmph, while returning a fuel economy of 18 Kmpl. Butterfly windows and two rows of seats will make short-distance journeys comfortable for about eight people.
Press Release
Mahindra launches its next generation Maxximo Mini Van
· The stylish and spacious 8-seater promises best-in-class comfort
· Maxximo Mini Van is powered by Mahindra's advanced C2 CRDe diesel engine technology
· Is set to re-define the entry-level Contract Carriage and Stage Carriage segments
· Competitively priced at Rs. 3.2 lac (BS3) for the Diesel variant
April 27 2011, Mumbai: Mahindra & Mahindra Ltd., a part of the US $11.1 billion Mahindra Group, today announced the launch of the Maxximo Mini Van, its next generation passenger carrier, in Mumbai. Developed on the technologically superior Maxximo platform, the Mini Van is set to redefine the face of the entry-level contract carriage and stage carriage segments in India. Equipped with best-in-class comfort and safety features and powered by the advanced C2 CRDe fuel-efficient diesel engine, this stylish people mover is competitively priced at Rs. 3.2 lac (Ex-Showroom BS3, Navi Mumbai).
Leading the pack with its wide-body with proper hardtop design, the spacious Maxximo Mini Van comes with ergonomically designed and well-cushioned seats that up the comfort factor. This, along with the Maxximo Independent Front Suspension system raises the bar of riding in comfort.
With its robust monocoque chassis, constructed with bigger box-sections for greater rigidity, and booster-assisted Twin LSPV brakes, the Mini Van is also one of the safest products in its category. Performance meets economy with Mahindra's proven C2 CRDe diesel technology which pumps out 25 HP power and still gives 18 kilometres to the litre. All of this is packaged in what is clearly the most stylish offering in this segment.
Speaking at the launch of the Maxximo Mini Van, Dr. Pawan Goenka, President, Automotive & Farm Equipment Sectors, Mahindra & Mahindra Ltd., said, "A product from Mahindra's state-of-the-art Chakan plant, the Maxximo Mini Van is the perfect embodiment of Mahindra's philosophy of "Rise."
It will drive positive change in the lives of our customers by helping them prosper with the power of advanced C2 CRDe technology, car-like comfort and safety, all in a stylishly designed package. At Mahindra, our endeavour has always been to offer best-in-class products and the Maxximo Mini Van, is no exception."
According to Rajesh Jejurikar, Chief Executive, Automotive Division, Mahindra & Mahindra Ltd, "Last year, the minivan segment in India was more than 1.4 lac vehicles. Such vehicles are increasingly being preferred by both the entry-level contract carriage and the stage carriage segment. We expect the Maxximo Mini Van to be nothing less than a game-changer in this segment. It will also change the face of the entry-level contract carriage segment, as the ideal vehicle for tour & travel operators, schools and other institutions".
About Maxximo Mini Van
Car-like Comfort & Space
The Maxximo Mini Van comes with a wide-body design to comfortably seat eight adults.
Ergonomically designed and well-cushioned seats reduce the fatigue of long journeys, while the well-thought out butterfly windows provide good ventilation.
Maxximo's Independent Front Suspension system absorbs the shock and bumps of the roughest terrain and the cable operated gear-shift gives a smooth car-like feel while changing gears.
In addition to a spacious passenger cell, the Mini Van comes with ample luggage space as well.
Stylish Look
The Maxximo Mini Van boasts of a stylish van design and a proper hard-top body.
The attractive front grille and futuristic, clear-lens wraparound headlights give the Mini Van a distinguished on-road presence.
It is available in two attractive colour options –Diamond White and Appy Red.
Segment-best Safety Features
The Mini Van provides 360-degree-safety with a monocoque body, a proper roof and a fixed-glass rear door. Unlike other offerings in the segment, the Mini Van's monocoque body is made of bigger box sections. This provides greater roll-over strength and greater resistance to roof-crush.
Furthermore, the doors are constructed with intrusion beams to protect occupants in the event of a side-impact.
Twin LSPV (Load Sensing Proportioning Valve) brakes, not seen on competing offerings, provide effective and precise control while braking and booster-assist reduces the effort required by the driver while braking.
Advanced Technology
The Mini Van comes with the proven C2 CRDe diesel technology that powers the Maxximo today.
Along with superior pulling power of 25 HP and a top speed of more than 70 Kmph, the Mini Van offers best-in-class fuel economy of 18 Kmpl, meaning an ideal balance of power and economy for the customer.
Mahindra Maxximo Mini Van Image Gallery