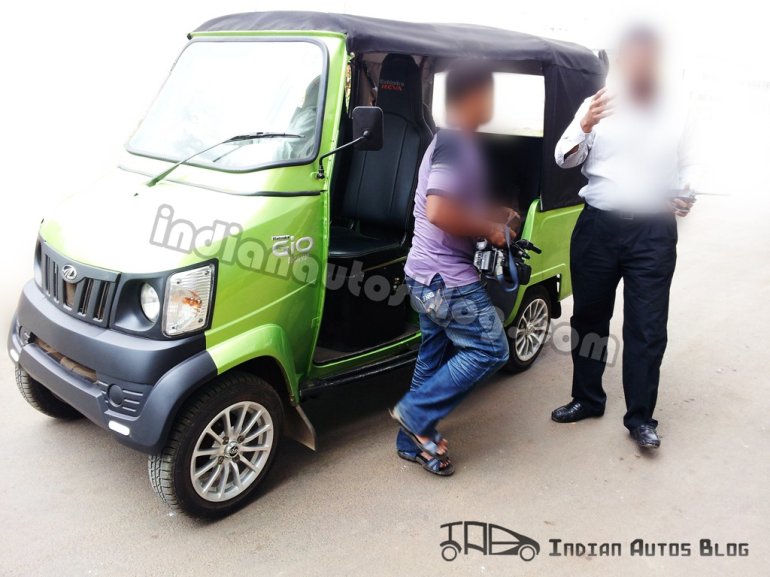 Spied here is the electric version of a production-ready Mahindra Gio Compact Cab. The vehicle has 'Mahindra-REVA' and 'Electric Vehicle' badges on its body and on the interiors as well. This means the motor, batteries and controller are sourced from REVA.
In our chat with Mr Rajan Wadhera, Chief Executive of technology, we understood that REVA will supply powertrains for jointly developed electric vehicles while vehicle building technology will be Mahindra's contribution. While Mr Wadhera was not specific about which vehicles will get electric counterparts, from this spyshot it is clear that Gio is among them.
The vehicle spied could be a prototype undergoing evaluation and feasibility. It has a top speed of about 50kph and shares many soft components with its diesel-engined sibling. Mahindra has also shown a rolling prototype at the Auto Expo last year of the Maxximo load carrier and has recently initiated projects on transferring electric technology from REVA on to its existing product portfolio.
We could see the Gio Compact Cab EV in places like the Taj Mahal, on Golf Courses and Theme Parks where air pollution is a cause of concern. Will it find a market in the city with three-wheeler operators?
Mahindra Gio Compact Cab EV Spyshots