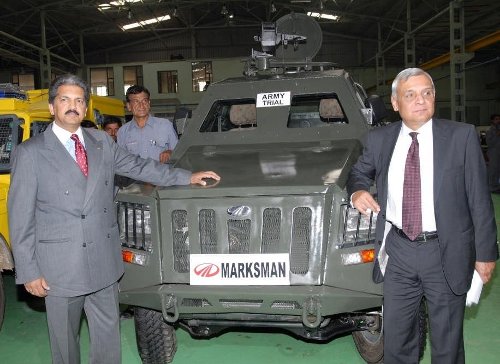 Mahindra is joining hands with a couple of companies in the Gulf to produce armored vehicles. Mahindra & Mahindra, its subsidiary Mahindra Overseas Investment Company Mauritius Ltd, Arabia Holdings and Ras Al Khaimah Transport Investments are coming together for this JV to be set up in the UAE.
Mahindra Defense Systems is one of the major players in the defense manufacturing sector in India. Mahindra had considerable experience in vehicle armoring and prepping military utilitarian vehicles with ballistic kits.
The JV project would be set up in the Ras Al Kaimah Emirate free zone, where the costs of manufacturing are low and the Emirate's close proximity to the Gulf, African and Central-Asian countries which would be the target markets for this JV.
Mahindra's Defense arm, through this JV would be manufacturing the heavily armoured Scorpio based Marksman and Armoured Cash transporting vehicles. These vehicles have already been developed for the Indian military and governmental organizations and are quite successful.
Mahindra could also build its High Mobility Multipurpose Wheeled Vehicle, the Axe which it is currently readying for the Indian Army. The Mahindra Axe is a heavily armoured vehicle which comes both in soft-top and hard-top versions. The Axe comes with either the 2.7 liter Ssangyong derived diesel engine or the 4.0 liter General Motors derived Vortec petrol engine. The Axe comes with an All-Wheel independent suspension system for extreme mobility during strategic missions.
Source: Economictimes
Image Source: Frontiernet