IndianAutosBlog.com readers would know that next generation BMW 3 Series (F30) scheduled for an early 2012 launch has been under testing for a long time. We have covered many of its facets through spy shots and spy videos. But now something interesting has caught our eye.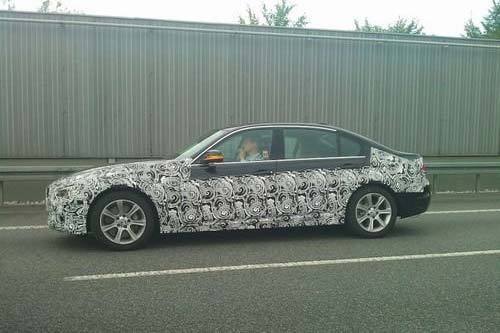 Chinacartimes is carrying spy pics of a BMW 3 Series long wheelbase version caught testing in Germany. The 3 Series is generally available in many variations such as a station wagon and with many engine options and most of them are not sold in India because there is no demand for such products. But this particular version may just be of supreme importance from the Indian perspective.
The spyshot reveals that this particular prototype in 4 inches longer than regular prototypes. There are other changes also such as a more sloping roofline and a sleeker side view of the car to make sure that the car doesn't look out of proportion. The bad news is that the long wheel base model is being specifically developed for the Chinese market.
The long wheel base model makes a lot of sense for the Indian market and here are my arguments:
• If you have sat in the rear seat of a 3 Series before, you will realize that it is not the most comfortable place in the world. There are other cars, which are in the lower price bracket, who have a better rear seat than the 3 Series.
• Because of the cramped rear seat, ingress and egress (basically getting in and out) is not easy.
• The rear legroom of the BMW 3 Series is pitiful. The driver seat is the best place on the car.
• Yes, I know it's the 'Ultimate Driving Machine', but let's get real. Most 3 Series are driven by chauffeurs with the owner sitting in the back.
• Many 'corporate edition' 3 Series are used as Taxis by hotels and transport companies. They certainly would appreciate room at the back.
Wouldn't extending the platform fiddle with the handling characteristics you ask? Yes, it would definitely. And that's why we need two edition of the new 3 Series. I am not saying launch only the extended wheel base model. We can have both the regular versions and the extended versions.
Do you think that the long wheel base BMW 3 Series is a good idea?
[Spy shot source - Chinacartimes.com]