The world premiere of the Lamborghini Veneno Roadster took place on December 1 in the city of Abu Dhabi. While Lambo could have simply chosen a 7-star hotel built on an exotic man-made island, the Italian supercar maker debuted the Veneno Roadster on board Italian naval aircraft carrier 'Nave Cavour'.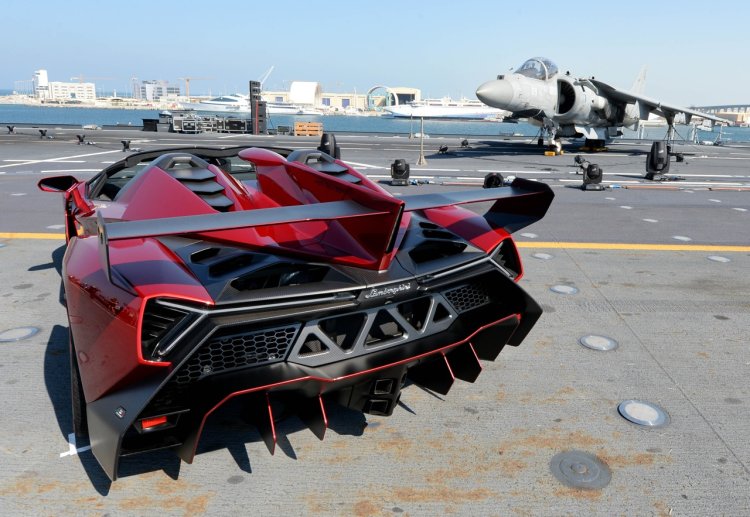 Based on the Veneno which premiered at this year's Geneva Motor Show in March, the Roadster will not get even an attachable roof, and only a rollover bar will be available. The engine is the same 6.5-liter V12 which powers the Aventador, but retuned to produce 750 hp in the Veneno. 0-100 km/h takes 2.9 seconds, while the top-speed stands at 355 km/h.
Though the Veneno is based on the Aventador, Lamborghini engineers used a large percentage of carbon fiber to bring down the dry weight to a mere 1,490 kg.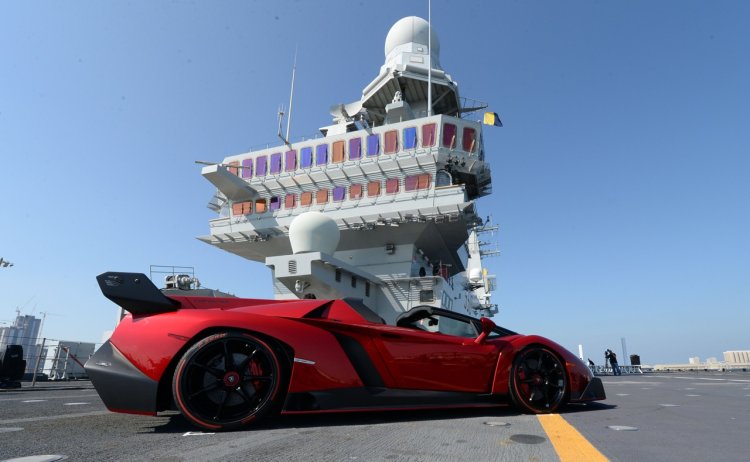 Lambo will build only 9 units of the Veneno Roadster, and according to the company, all the units will be built in 2014. For the Veneno Roadster, Lamborghini will charge 3.3 million euros (INR 27.87 crores) excluding taxes. Customers can choose any color of their fancy.
Stephan Winkelmann, President and CEO of Lamborghini, said -
We are honored that Lamborghini was chosen to represent the Italian car industry in the UAE, as a perfect example of iconic Italian super sports cars, and that we have the opportunity to show the Veneno Roadster for the first time in Abu Dhabi. Lamborghini has an extremely strong following in the region for its super sports cars, with the Middle East one of our largest markets in the world.
Lamborghini Veneno Roadster Image Gallery
Lamborghini Veneno Roadster Press Release
[Head to Slideshare if you're unable to view the document above.]