Our new friends at THE ESTD, distributors of exotic brands such as Koenigsegg, Ariel and Gumpert in India, have shipped us a selection of images of the mid-engined Agera supercar finding its way carefully through some rough patches of Indian road. The word Agera in Swedish means "to act."
The Agera, made using lightweight materials such as carbon fiber, is priced at a cool 12.5 crore rupees (ex-showroom Delhi) and is easily the best alternative to the Bugatti Veyron available in India for a sum of 16 crore rupees.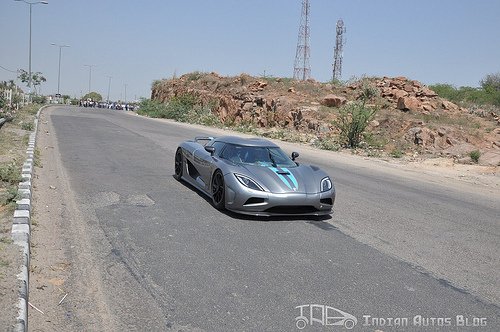 The Agera is more than just a fine interplay of speed and horsepower. Nothing represents the essence and meaning of Koenigsegg better than this model.
But if you aren't interested in anything else, then here you go - A 5-liter twin-turbocharged engine develops 910bhp and 1000Nm making it possible for the 0-60mph sprint to finish in under 3.5 seconds.
The Agera may loose out to the Veyron on top speed figures, but 400kph is frightening fast!
Koenigsegg Agera Image Slideshow
If you cannot view the slideshow above, then head over to the Koenigsegg Agera Flickr Gallery to catch all the images