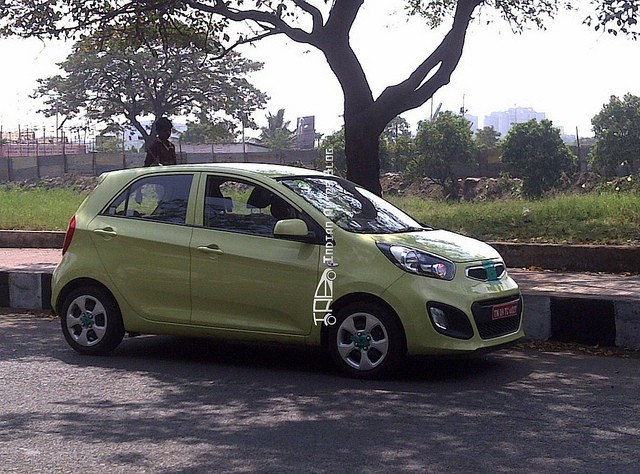 A lime green test mule of the Kia Picanto has been testing in Chennai since late November last year. As you may have read, the Picanto is the first cousin of the Hyundai i10 (the second cousin is the Kia Ray, a boxy hatch reserved for the Korean market).
The Picanto, sometimes known as the Morning, shares its parts bin with the i10 but designers have executed the Picanto to look more lively.
As we've pointed out on previous occasions, there's no Kia in India, so there is no place for a Picanto.
Hyundai will not rebadge this as the i10, as the next generation i10, expected to touch down next year, (codenamed BA) is assumed to be a different vehicle. Selling a Kia in a Hyundai dealership is not a wise idea and is a short-term solution. These cars look very similar and could cross-cannibalize their sales. There has to be a marked difference in the design, powertrain and features for them to coexist peacefully. Selling them under different roofs is the way forward.
These spy photos sent in by our Chennai readers Akshay Goyal and Naved Ahmed show the left-hand-drive Picanto near the Marina beach (World's second longest beach) in Chennai. Will Kia consider the Indian market seriously as it expected to outgrow many developed markets in the next 15 years? VW-Skoda-Audi and Renault-Nissan are out to prove that badge engineering and platform sharing are not wrong strategies in India.
If Kia enters the Indian market, it can position itself as a premium brand over parent Hyundai. Kia has fascinating vehicles in its family and the best part is many of them share their underpinnings and powertrains with Hyundai. They may have to use Hyundai's help to manufacture India-specific low-cost vehicles but their overseas models will garner plenty of admiration and fans in India.
Kia Picanto testing in Chennai
can't see the slideshow above? Head over to the Flickr page hosting all the images.