Both are priced the same.
Kawasaki presented the Kawasaki D-Tracker 150 and the Kawasaki KLX 150BF among other models, at the 2015 Thailand Motor Expo earlier this month. Both models are already on sale in the market, starting at THB 87,500 (INR 1.62 lakhs).
Kawasaki D-Tracker 150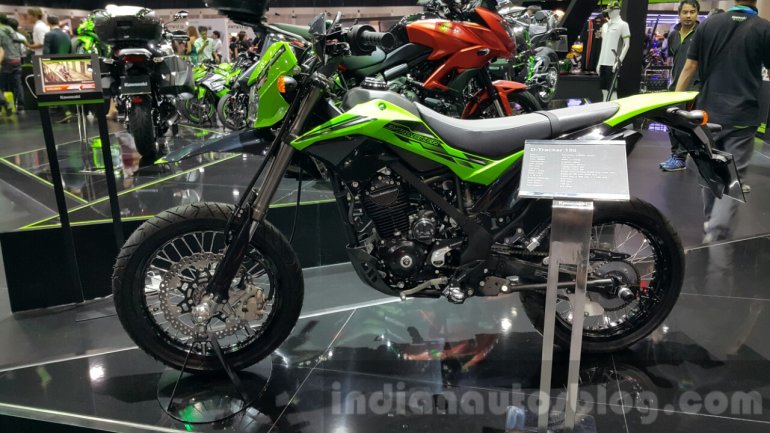 The new version of the Kawasaki D-Tracker 150 compared to the model released a year ago, is characterised by the new headlamp shape, the revised taillamp assembly, the new radiator shroud and the introduction of a fuel gauge. The new model is offered in four colours - Candy Burnt Orange, Candy Lime Green (standard), Lime Green and Shiny Yellow (SE).
The Kawasaki D-Tracker 150 is a dual purpose motorcycle that is powered by a 144 cc single-cylinder air-cooled engine with SOHC, two valves and a carburettor. It produces 11.7 PS of maximum power at 8,000 rpm and 12 Nm of peak torque at 6,500 rpm. The motorcycle is fitted with 100/80 and 120/70 bias-ply road tyres on 17-inch spoke rims that are suspended by 35 mm inverted fork and a Uni-Track rear suspension with a five-way preload adjuster.
Kawasaki KLX 150BF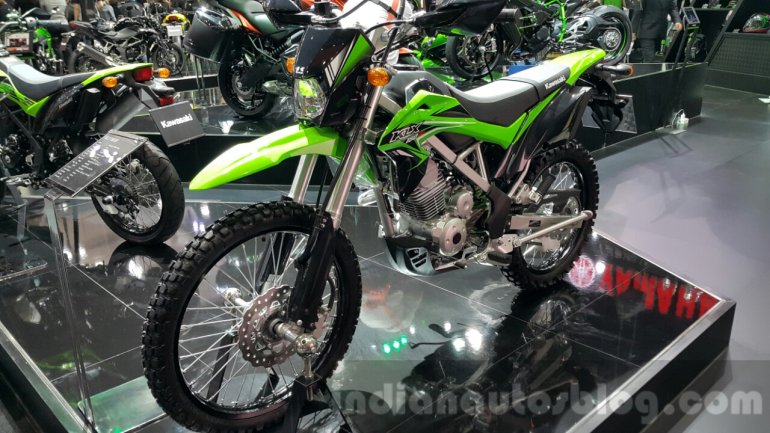 The Kawasaki KLX 150BF is similar to the other 150 cc KLX models, except the BF version is equipped with a 21-inch spoke rim upfront that is suspended by an inverted fork, and an 18-inch spoke wheel at the rear. In addition, a pair of hand guards, an engine guard, a black treatment to the body and the rims, and the new body graphics further distinguish the BF version of the KLX 150. It is based on the same chassis and uses the same powertrain of the Kawasaki D-Tracker 150.