In all fairness, it had to happen someday! Yes, one of the most famous talk show hosts in television history and a true blue petrol head - Jay Leno - finally has a Tata Nano in his garage.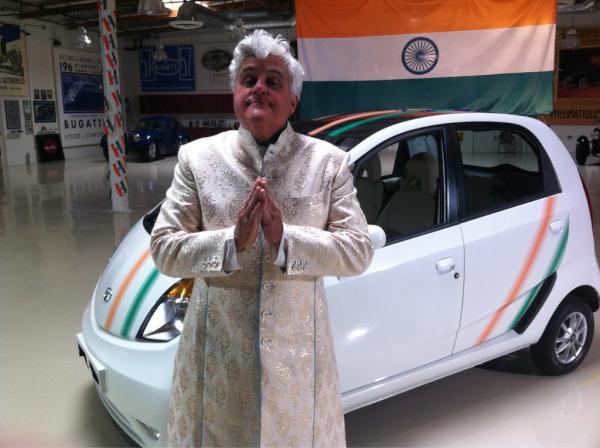 But a Tata Nano entering the Jay Leno epic garage is no ordinary occasion. Thus, the Tata Nano was welcomed in a Bollywood setting with Jay Leno dressed in a Sherwani.
This is probably the first time I am seeing Jay leno not wearing a denim jeans or a suit as he generally does on The Tonight Show. Quite a car eh?
Jay Leno is one of the biggest petrol heads in the world only next to the Sultan of Brunei. He has a garage that houses nearly 200 mouth watering cars and 90 motorcycles. He has a dedicated web series called 'Jay Leno's Garage' wherein he road test cars that come to his garage. A special tri-color Tata Nano will be a part of this web series which will air shortly. Don't worry, we will get it for you as soon as it is released.
From the look of things, it seems that the upcoming web episode will be full of Bollywood sequences with dancers showcasing their jhatkas and matkas. We can't wait to hear Jay Leno's opinion on the Tata Nano. But it seems that it will take some time for the review to air because Jay Leno just finished shooting it.
In the meantime, you guys can head to Jay Leno's website to see some of his cars.
[Source: businesstoday.intoday.in]