The system will alert the driver using touch, sound, and lights.
With a reported 19,000 cases of cyclists' injuries and fatalities in the UK, Jaguar Land Rover has devised a technology to make its cars safer for two-wheeler users. Called Bike Sense, the technology uses touch, lights, and sound to prevent accidents.
[Can't see the video above? Head to YouTube.]
The system can detect cycles/motorcycles in the car's blind spots and alert the driver accordingly. To start with, the vehicle's audio system can play a motorcycle horn or a bicycle bell to intimate the driver about the direction the cycle/motorcycle is coming from.
There's also an arrangement of LED lamps on the windows sills, dashboard, and A-pillars of the car, which will turn from amber to red if and when a bike approaches, hence notifying the bike's direction. And if it's overtaking from behind, the seat will generate a tap on the driver's shoulder, for the same.
In case of a group, the system can prioritise the nearest hazard and let the driver know. Also, the system will detect bikes and pedestrians that are not in sight and intimate the driver using the same sounds and directional lights.
JLR mentions that such an approach is used so that the driver instinctively looks and takes the decision, whereas other methods like generic sounds/beeps generally take longer for the human brain to respond. And in case the driver ignores the warning, Bike Sense will also make the accelerator stiffer and vibrate, so that the driver knows it's unsafe to move the vehicle.
And since a lot of cyclists are subjected to ill-timed opening of doors by car users, the system will first use lights and sound if the door is being opened while the car's in the cyclist's path. If the warning is overlooked, the door handles will light up, vibrate, and even buzz, too.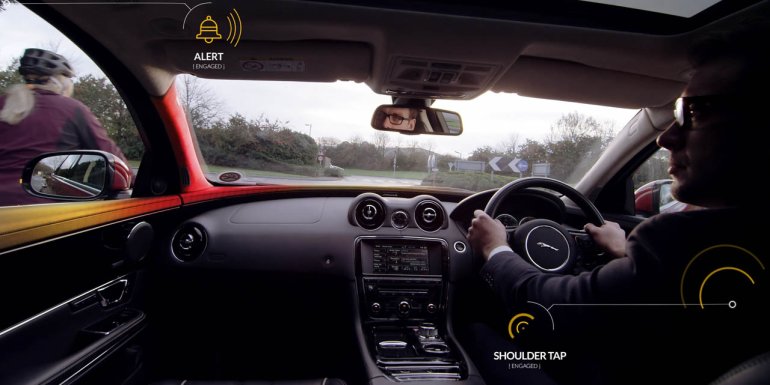 Also read: Jaguar Land Rover to replace R-S with SVR badging
Talking about the said way of alerting and averting accidents, Director of Research and Technology, JLR, Dr Wolfgang Epple, mentioned, "This could reduce the risk of accidents with all road users by increasing the speed of response and ensuring the correct action is taken to prevent an accident happening."
Jaguar Bike Sense - Press Release
[Can't see the document above? Head to
Slideshare
.]