As we reported earlier, Indian Motorcycles will make its entry into India in January next year. The American motorcycle maker has announced that it will launch its products in the country on January 22.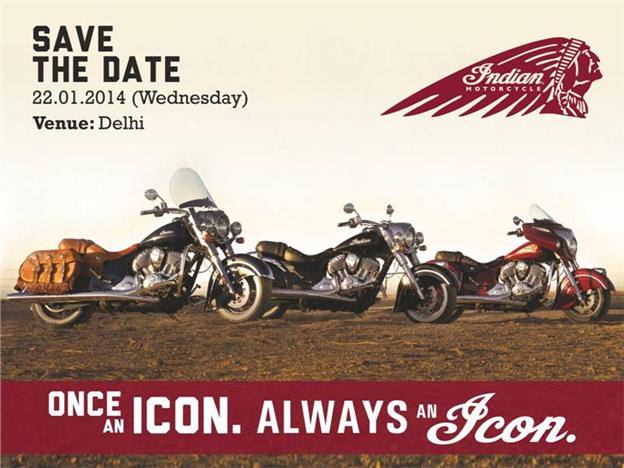 In August this year, Indian unveiled their new range of 2014 cruisers, which are the models that would come to India. The three cruisers, Indian Chief Classic, Indian Chief Vintage and Indian Chieftain are all powered by an all-new Thunder Stroke 111 engine and come with a 6-speed transmission. The engine is aptly named as it displaces 111 cubic inches (1,819 cc) and produces 161.6 Nm of peak torque at 3,000 rpm.
Indian will most likely import their motorcycles into India via the CBU (Completely Built up Unit) route in the launch stage. Ever since Polaris took over the company in 2011, production of these motorcycles take place at Spirit Lake, Iowa.
In the United States, the Chief Classic is the most affordable model in the lineup with prices starting at USD 18,999 (INR 11.83 lakhs). The Chief Vintage is priced between the Classic and Chieftain at USD 20,999 (INR 13.08 lakhs), while the Chieftain retails for USD 22,999 (INR 14.32 lakhs) in American showrooms.
The Chieftain gets features such as a powered windshield, an audio system with high-output speakers and an integrated Bluetooth system with smartphone support, hard saddle bags mounted on quick release anchors, electronic locks for the saddle bags controlled through the key or console and additional driving lights.