It's body structure is "poor performing."
The Hyundai Grand i10 has been subjected to crash tests by Latin NCAP. The model tested was made in India and meant for the Chilean market.
[Youtube direct link]
The basic variant of the hatchback has received zero stars for adult occupant protection and two stars for child occupant protection. The unit that was tested had no airbags, no ESC and no child seat ISOFIX anchorages.
This is in stark contrast to the European model that can boast of a four-star rating. This rating is possible due to the presence of several features such as front and side airbags as well as ISOFIX child seat anchorages. It also receives added safety features such as anti-skid technology, Electronic Stability Control (ESC) and a more stable structure.
NCAP said that the same model launched recently in Argentina had more safety equipment (like airbags) but the agency raised concerns about the structure of the Grand i10 (common to both markets) stating that it may reduce passenger safety.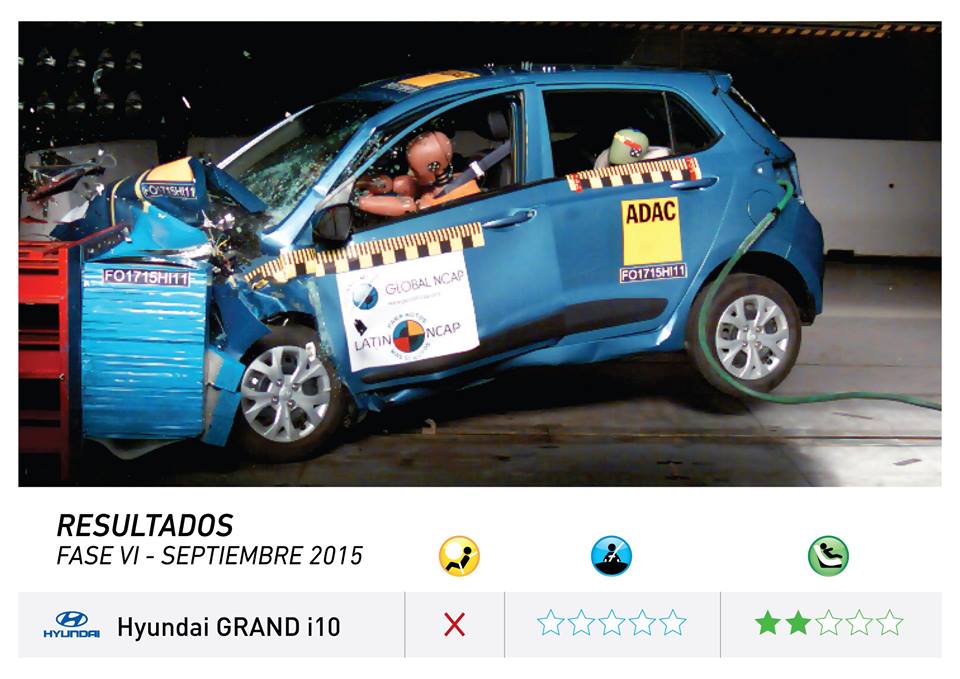 Commenting on the outcome, Alejandro Furas, Secretary General of Latin NCAP, asked Latin America car company leaders to demonstrate their commitment to safety of the customers, by offering only those vehicles for sale which "Pass UN's minimum crash test standards." He also urged the Latin American governments to "Mandate UN regulations in the interest of improving safety of their citizens."
You can refer the score card and the press release for more info.
Hyundai Grand i10 - Latin NCAP crash test score
[Slideshare direct link]
India-made Hyundai Grand i10 Latin NCAP crash test - Press Release
[Slideshare direct link]