After bringing you India's only Honda Elite 250, we have another unique scooter from the same garage, a Vespa LML Pulse. Dr Jeswant Thomas, an avid collector of rare bikes and cars, is proud owner of vehicles like Yamaha Enticer, Rajdoot 175, Kinetic Lazer 170, the Honda Elite 250 and the Vespa LML Pulse. We've already written about his special connection with the Honda Elite 250, and you can read all about it by clicking here.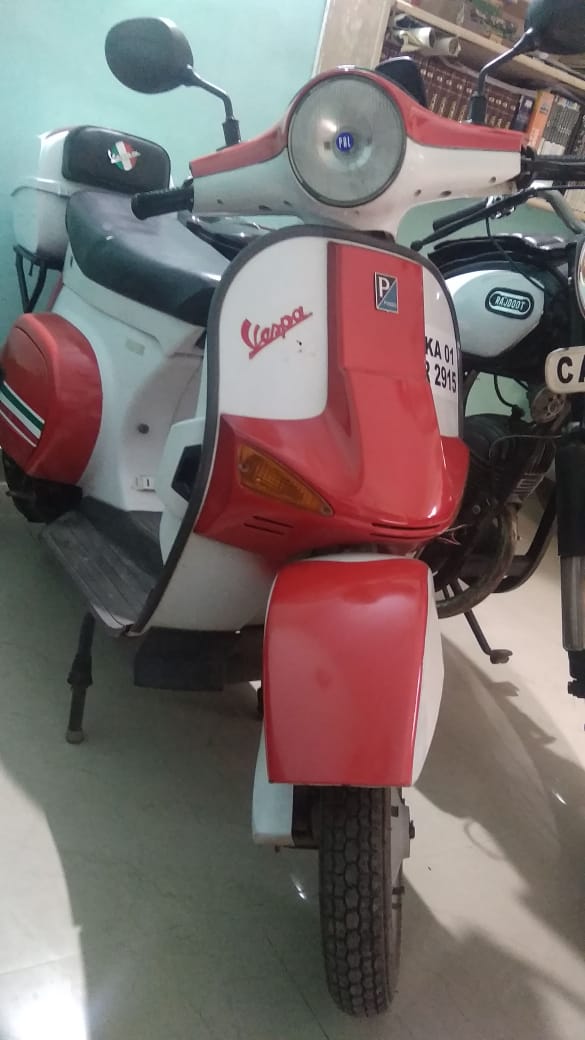 Also read: Check out this Lamby 150 restored to its original glory
In this post, we will talk about Dr Thomas' Vespa LML Pulse. The LML Pulse in the photographs is a 1999 model of the 70cc scooter. LML Motors Showroom on Museum Road owned the scooter. The Vespa only had 1,500 kms on the odometer and was as good as new. The 1999 Vespa LML Pulse scooter was purchased in 2018.
Dr Thomas took upon the task to give the scooter a makeover. He got rid of the stickers and got the vehicle cleaned and serviced before painting it white and red.
The box plate was redone with an Italian flag and the same done on the sides. The Vespa logos and the 70th anniversary logo were added to the scooter. The apron wears the Piaggio badge in the centre, the Vespa branding on the left side and the registration plate on the right. The front blinkers sit on the red painted panel.
A compact instrument console follows the spherical headlight. The console is colourful with Vespa branding on red background, and a yellow backdrop to the speedometer. Telltale indicators sit on either side of the speedometer. It only has about 1,150 km on the odometer.
The sides and the back continue with the red and white paint theme. Behind the saddle is another upgrade that comes in the form of a top box. The storage unit also doubles up as the pillion backrest, thus ensuring enhanced passenger comfort.
Speaking about his Veaps, Dr Thomas said:
She is a peppy little bike who with its mini scooter engine and super scooter looks makes it a pride in my tiny collection.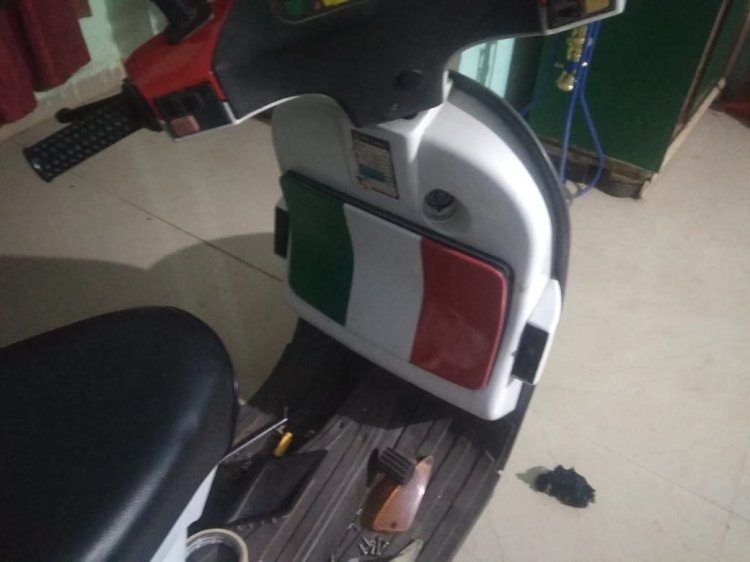 Also read: IAB Reader shares his experience with a modified Yamaha RX100
It is indeed a special little scooter and we wish Dr Thomas many happy miles on this, and rest of his vehicles.