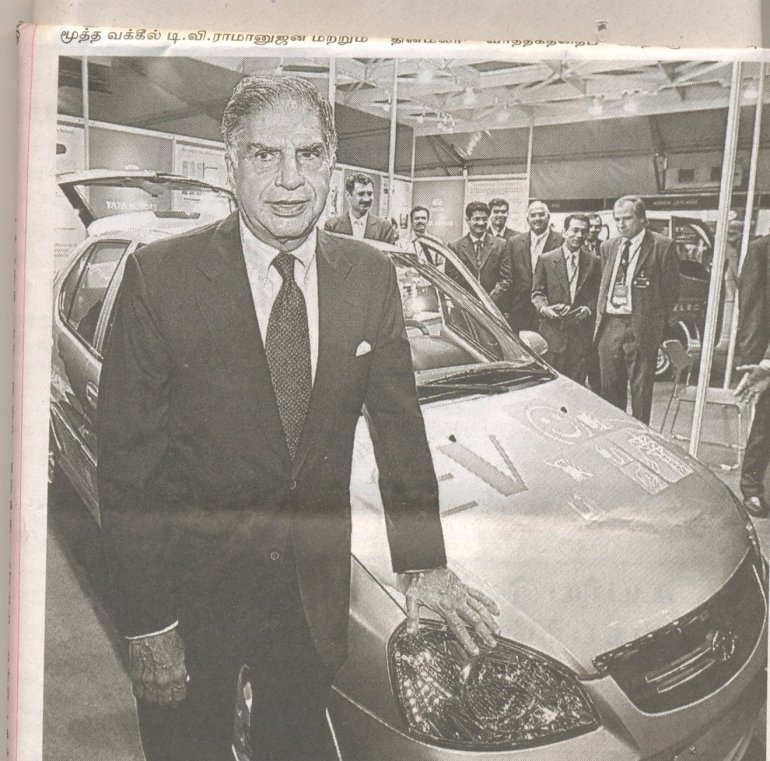 In a surprise of sorts, Tata has unveiled the Electric Indica. This news article/picture is from a Tamil daily, Dinamalar. Tata Motors plans to launch an electric version of its Indica hatchback in Norway within a year, and will bring it to the local market at a much later stage, its managing director said on Wednesday.
Tata Motors, which is also making the Nano, billed as the world's cheapest car, showcased a prototype of the "Indica EV" at an industry conference on Wednesday. "This is one of the technologies that we are looking at, as you know that electric cars are almost zero emission," Managing Director Ravi Kant said.
Car makers, including Nissan Motor and Mitsubishi Motors, are preparing to roll out electric vehicles in the coming years, amid soaring gasoline prices and stricter emission rules. U.S. giant General Motors Corp, meanwhile, is looking to beat Toyota Motor to the punch with its all-electric Chevy Volt. GM expects to have a showroom-ready version by this year, according to people familiar with the project. Last week, Toyota said it would speed up the development of vehicles that run only on electricity with the aim of mass producing them in the early part of the next decade.
Tata Motors' electric car -- with a left-hand drive -- has been developed in collaboration with a Norwegian firm, Kant said. "Right now we want to test it out in Norway with the Norwegian party. Because, you know, lot of infrastructure is required for electric vehicles and ... in Norway, they are making arrangements for electric cars." "We will bring that to India at an appropriate time."
S. Ravishankar, senior general manager at Tata Motors' engineering research centre, said the car can run for 175 km (110 miles) to 200 km when fully charged with a "two-pack" battery, but mileage could vary according to the battery used. On Tuesday, Tata Motors said violent protests had forced it to suspend all work at a plant in eastern India where it planned to make the Nano, and the firm is now considering alternative sites.
When asked whether the protests would delay the much-awaited car's planned launch next month, Kant declined to comment.