We have been consistently covering all the developments of the Ford EcoSport not just in India but internationally as well. However some startling information with a amazing piece of evidence has just graced our mailbox.
IAB's avid reader Deepak Sharma has managed to expose a big secret the Ford EcoSport has been hiding for long.
Deepak sends us an image of the interiors of the Ford EcoSport's Indian version (RHD). Sure, the interiors of the Indian model were never exposed before but that's not the big news. The spy shot is testimony to the fact that Ford has already started work on the automatic variant of the Ford EcoSport.
One can also notice the SYNC badge near the shifter, Ford's in-vehicle communication and entertainment system, that gives drivers directions, ability to make voice-activated phone calls, listen to text messages, etc. This technology is on its way to India through the EcoSport.
Considering Ford has already spent huge amount of moolah on making the Indian masses aware of its new double clutch gearbox, we have a strong feeling that the EcoSport will also be blessed with the Fiesta's PowerShift transmission.
The PowerShift gearbox is one of the cheapest double clutch gearbox in the world. Thanks to the two-clutch system, and the extra cog, the PowerShift technology provides responsive performance coupled with class leading fuel economy. Along with these benefits, PowerShift is sealed for life and will need no servicing or oil changing for a period of 10 years/ 2,40,000kms. It is an ideal automatic gearbox for Indian conditions.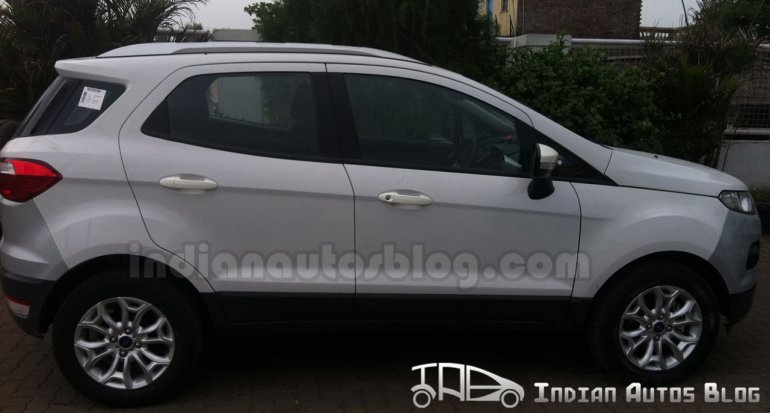 Apart from the position of the steering wheel, all the other details of the interiors of the EcoSport's Indian model are identical to the one in Brazil. We have comprehensively covered the interiors of the EcoSport over here.
The automatic gearbox option would provide some leverage to the Ford EcoSport over arch rival Renault Duster. Renault India has no plans to launch the Duster in automatic for now.
Read everything about the Ford EcoSport
We hope Ford India would provide us the PowerShift gearbox in both petrol and diesel variants of the EcoSport, unlike the Fiesta which only gets in petrol. This is not an easy ask, as Ford cannot develop technologies for one country. There is a lack of demand for diesel AT variants outside India, and hence Ford may think twice before starting this project.