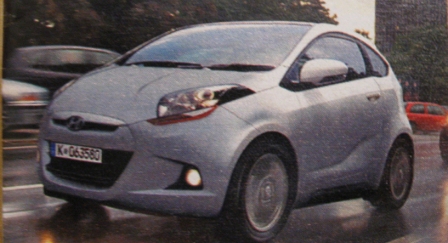 We've placed the Hyundai small car in the limelight not once, but twice here before.
What we did not know in both the occasions was the Hyundai small car, codenamed GB, will be sold with a 800cc engine and a 1.0-liter engine petrol engine.
Yeah, adjoin a diesel engine to that, reports Auto Express. How many cylinders and horsepower is however not known yet.
Reports also confirm Hyundai engineers from Korea and India are working closely in designing this car. Both the teams bond in Hyundai's facility in Namyang (Korea) and in Hyderabad (India).
During the second half of 2010, this car will go on sale in India. Formerly, it was known that the Chennai plant where the i10 is made would be utilized for the small car, but after the recent labour issues in the plant, Hyundai might look at Russia or European countries for producing the car.