The Hyundai Venue is expected to be a big hit in our market, and so, IAB reached out to Hyundai to understand if the strong demand will be met by the planned production right from the get-go.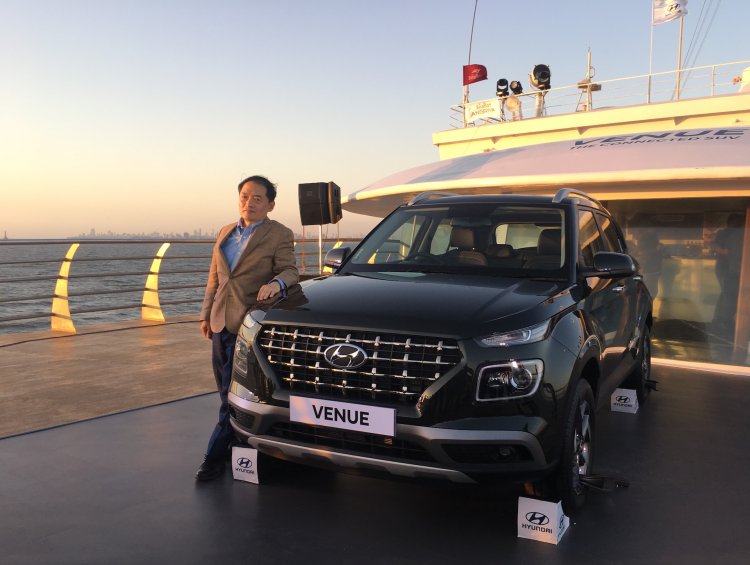 "We are looking at definitely a volume of around eight to nine thousand per month for the Venue to start off with," Puneet Anand, Sr. General Manager and Group Head, Marketing, Hyundai Motor India, told IAB on the sidelines of the unveiling event on a cruise liner in midst of the Arabian Sea yesterday.
I am sure this will be received very well and will redefine the way people have been looking at the sub-4 metre segment
Hyundai will increase its production to a higher level if the market demands."As the customers want more and more, we will definitely augment, our production will ramp in," Anand said. The company is targeting the Venue primarily at customers in the age group of 25-30 years.
We have given the first connected SUV to the young audience, 25-30 years of age, who don't treat car as a place of mobility, but they treat car as their third space. After their office, after their home, I think car is the place where they can party together, they can enjoy together, they can connect together, they can connect together, they can connect with their family members together, they can share their feelings, they can share their thoughts with their family members.
Hyundai will sell the Venue in India with three engine options: 1.0L T-GDI, 1.2L MPI and 1.4L CRDi. The T-GDI engine, available for the first time in our market, is a turbocharged three-cylinder petrol unit that produces 120 PS and 17.5 kg.m (172 Nm) of torque. This engine directs power to the wheels via a standard 6-speed manual transmission or an optional 7-speed dual-clutch automatic transmission - also a first for a Hyundai here.
The MPI engine is a naturally aspirated four-cylinder petrol mill good for 83 PS and 11.7 kg.m (115 Nm) of torque. It is coupled to a 5-speed manual transmission. The CRDi engine is a turbocharged four-cylinder diesel unit that develops 90 PS and 22.4 kg.m (220 Nm) of torque. It sends drive to the wheels via a 6-speed manual transmission.
Also Read: 2020 Hyundai ix25 (2020 Hyundai Creta) debuts at Auto Shanghai 2019
India will be the first market worldwide to get the Hyundai Venue. The launch is scheduled to take place on 21 May.