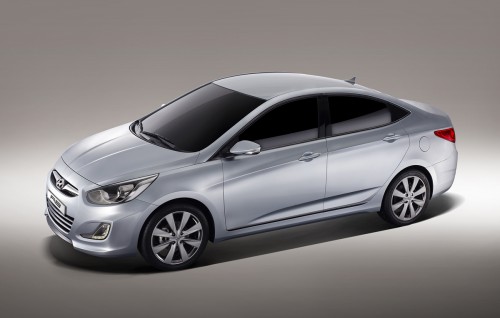 Hyundai at the Moscow Auto Show which kick started today, has presented the Hyundai RB concept, which prefigures a subcompact sedan.
Now the question is, is this the car that will take on the VW Vento and Honda City?
The RB concept, from the images, looks like a visually masked next generation Hyundai Verna. There's also a connection to the i20 here since what we learned is the next generation Verna is based on the i20's platform.
Look closely at the images and you can conclude -
Next gen Hyundai Verna + Hyundai Avante's face + i20 platform = RB Concept
Hyundai has used every bit of the fluidic design language and most element on this vehicle hint this is almost production ready. The RB Concept could be produced in Hyundai's Chennai plant next year, but the company has stayed mum on the RB.
The production Hyundai RB will be equipped with Gamma engines displacing 1.4-liters and 1.6-liters respectively and will have multiport fuel injection and continuously variable distribution. As every new engine would, this vehicle will have less fuel consumption and emissions.
124 HP for 1.6-liter Gamma engine and a torque of 135Nm is for the power lover. The economy buyer will be interested in the 1.4-liter unit which will deliver 107 HP and 156Nm. There will also be an automatic transmission in the future, which we think is what the Hyundai i20 Auto uses at the moment.
The production model derived from the RB Concept will debut in January 2011 at the Hyundai factory in St. Petersburg, Russia. More information is expected to follow shortly.
Hyundai RB Concept Image Gallery